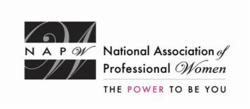 We fight for the right talent and always try to bring the best people in.
Garden City, NY (PRWEB) April 08, 2014
NAPW honors Wendy M. Malkin as a 2014 Professional Woman of the Year. She is being recognized with this prestigious distinction for her leadership in human resources. As the largest, most-recognized organization of women in the country, spanning virtually every industry and profession, the National Association of Professional Women is a vibrant networking community with over 600,000 members and nearly 400 Local Chapters.
"I am involved in policy review, implementation, business review and planning all human resource functions," says Ms. Malkin, director of human services at Mentor Worldwide LLC. "I am very involved in talent management."
Mentor Worldwide was founded in 1969, and later acquired by Johnson & Johnson. The stand-alone business unit is a leading supplier of medical products for the global aesthetic medicine market. In her human resource (HR) role at Mentor Worldwide, Ms. Malkin is responsible for ensuring the company's adherence to Johnson & Johnson's policies and company objectives.
Throughout her successful career in HR, Ms. Malkin has held a variety of positions, from corporate to line management to senior leadership roles. She has also worked all over the world. "I have been in Canada, the U.K., Puerto Rico and the U.S.," she says. "In each role, I've been able to learn about the unique cultures of that particular area." In her current position, Ms. Malkin partners with the corporation's president, business leaders and other colleagues throughout the global company to find the finest employees available. "We fight for the right talent and always try to bring the best people in," she said.
A dedicated professional, Ms. Malkin continues to pursue her own education, working toward obtaining advanced certifications including one in organizational design."I will continue to look at what's coming in business and meet whatever challenges there may be. I want to keep evolving to meet the changing needs of the business."
About NAPW
NAPW provides an exclusive, highly advanced networking forum to successful women executives, professionals and entrepreneurs where they can aspire, connect, learn and achieve. Through innovative resources, unique tools and progressive benefits, professional women interact, exchange ideas, advance their knowledge and empower each other.