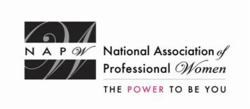 My heart is in what I'm doing. I believe so strongly in these charities so I try to help them.
Garden City, NY (PRWEB) January 19, 2014
NAPW honors Elaine J. Raymond as a 2013/2014 Professional Woman of the Year for leadership in sales and fundraising with this prestigious distinction. As the largest, most-recognized organization of women in the country, spanning virtually every industry and profession, the National Association of Professional Women is a vibrant networking community with over 600,000 members and nearly 400 Local Chapters.
"My heart is in what I'm doing. I believe so strongly in these charities so I try to help them," says Mrs. Raymond, who has dedicated her life to raising funds for local nonprofits. A 40-year healthcare professional in radiography and mammography, Mrs. Raymond first became inspired to get involved in fundraising when she was diagnosed with cancer over 20 years ago. After her recovery and thriving fundraising tenure with the American Cancer Society, she soon realized that raising money for self-funded organizations was her truest passion.
A gifted people person, Mrs. Raymond uses her primed communications skills to raise awareness for Fighting For Our Heroes, a veterans support organization, Dream Acres for Autism, Inc., which provides service dogs to autistic children free of charge, and Child Rescue Network, a nonprofit promoting child safety. With the help of the wide-ranging connections and networking contacts that her noted charismatic nature has helped her gain, Mrs. Raymond organizes large fundraisers that play an instrumental part in accomplishing the charities' goals of improving the lives of those who need it the most.
In addition to these noble efforts, Mrs. Raymond acts as her own vendor as an independent consultant at Mary Kay, where all of her proceeds are donated to the charities she works so tirelessly to support. "I want to make sure that research and funding is there. I want people to remember me as someone who tried to give back," she says.
NAPW provides an exclusive, highly advanced networking forum to successful women executives, professionals and entrepreneurs where they can aspire, connect, learn and achieve. Through innovative resources, unique tools and progressive benefits, professional women interact, exchange ideas, advance their knowledge and empower each other.