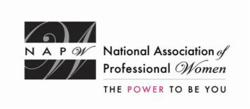 My job is to identify, hire and then support professionals to run their own small businesses.
Garden City, NY (PRWEB) May 20, 2014
NAPW honors Megan Gaardsmoe, field sales leader and recruiter at Allstate Insurance as a 2014 Professional Woman of the Year. She is being recognized with this prestigious distinction for leadership in recruiting. As the largest, most-recognized organization of women in the country, spanning virtually every industry and profession, the National Association of Professional Women is a powerfully vibrant networking community with over 600,000 members and nearly 400 Local Chapters.
Megan Gaardsmoe came up the ranks at Allstate Insurance, first, as Casualty Field Adjuster, then as Risk Manager, and finally as a Field Service Manager in the greater Philadelphia area. "My job is to identify, hire and then support professionals to run their own small businesses," says Ms. Gaardsmoe, who has more than 20 years of insurance and small business expertise helping people to maximize their unlimited earning potential.
As the #1 publicly held insurance company in the country, Allstate offers both startup and purchase opportunities. As a Field Service Manager, Ms. Gaardsmoe educates new owners in how to build their businesses. She teaches them the benefits of having an economic interest in their own business and how to grow a fledgling business into multiple locations. Every Allstate owner receives a comprehensive education, a customizable company website, phenomenal marketing support and an exciting awards and recognition program when business objectives are achieved.
By continuously expanding her expertise in insurance while simultaneously establishing strategic inter-departmental partnerships, Ms. Gaardsmoe has been able to creatively extend the parameters of her job description.
NAPW provides an exclusive, highly advanced networking forum to successful women executives, professionals and entrepreneurs where they can aspire, connect, learn and achieve. Through innovative resources, unique tools and progressive benefits, professional women interact, exchange ideas, advance their knowledge and empower each other.