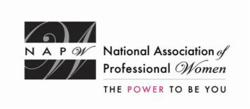 I have been in the insurance industry providing customers with insurance to meet their personal or business needs since 1991.
Garden City, NY (PRWEB) April 22, 2014
NAPW honors Angela D. Trimble, Principal / Owner at TrustPoint Insurance & Real Estate as a 2014 Professional Woman of the Year. She is being recognized with this prestigious distinction for her leadership in property and casualty insurance and real estate services. As the largest, most-recognized organization of women in the country, spanning virtually every industry and profession, the National Association of Professional Women is a powerfully vibrant networking community with over 600,000 members and nearly 400 Local Chapters.
"I have been in the insurance industry providing customers with insurance to meet their personal or business needs since 1991," says TrustPoint Services Owner Angela Trimble. In the other line of business with TrustPoint Real Estate, she enjoys helping people find a house they can make a home.
At TrustPoint Insurance & Real Estate, Ms. Trimble and her staff have made it a priority to handle each customer's needs as if they were their own. Their goal is to give each and every client peace of mind by developing efficient "tailor-made" insurance programs. TrustPoint has the unique ability to shop the marketplace for the insurance company that provides the best protection at the most competitive price. Ms. Trimble and the realtors in her office also understand how the ever-changing housing market impacts how people buy and sell homes.
Ms. Trimble continues to grow her business, expanding her staff and educating people in insurance matters, making a positive and lasting impact on the lives of those who respect her as a role model and by sharing her experience as a mentor. Self-motivated, results-oriented and dedicated to her family, Ms. Trimble is an example of what can be accomplished with a work ethic of perseverance and integrity. She holds a B.A., in marketing and business management from Brown Mackie College and a B.S. in business management and marketing from Kansas Wesleyan University. She is a member of KIAA, SIAA, MIAA, KAR and Rotary International. Ms. Trimble has also been an active board member of her local hospital.
About NAPW
NAPW provides an exclusive, highly advanced networking forum to successful women executives, professionals and entrepreneurs where they can aspire, connect, learn and achieve. Through innovative resources, unique tools and progressive benefits, professional women interact, exchange ideas, advance their knowledge and empower each other.