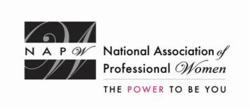 I have always believed that if you work harder than your competitors, you will succeed, especially in the U.S.
Garden City, NY (PRWEB) January 19, 2014
NAPW honors Elsie L. Qian as a 2013/2014 Professional Woman of the Year for leadership in international logistics with this prestigious distinction. As the largest, most-recognized organization of women in the country, spanning nearly every industry and profession, the National Association of Professional Women is a networking community with over 600,000 members and nearly 400 Local Chapters.
"My partner and I started our business in 200 square feet of subleased office space. We knew we could succeed if we stayed open minded and provided exceptional service to our customers. I have always believed that if you work harder than your competitors, you will succeed, especially in the U.S.," says Ms. Qian.
Raised in a traditional household in Shanghai, Ms. Qian was taught that the key to success was hard work and she has never wavered from this belief. After a highly successful career in a respected international freight-forwarding firm, Ms. Qian made the bold move to entrepreneurship and co-founded Apex Logistics International, Inc.
Under Ms. Qian's expert leadership and business acumen, the company has steadily grown to become a leader in its field. As the chief executive of Apex's U.S. operation, Ms. Qian has overseen its successful expansion into four major American port locations. Her strategic decision making has not only guided Apex through the tumultuous economy in recent years, but has resulted in the creation of new jobs and a respected brand in the international logistics industry.
Fostering a family-oriented culture at Apex has instilled a sense of pride among employees, who all share Ms. Qian's passion for exemplary customer service. "Our team of employees is committed to delivering services our customers want, not what we feel they need. We listen to our customers and then collaborate with them in solving their logistics needs," says Ms. Qian. "If we stay committed to our business model and deliver our services with passion, then there is nowhere to go but up."
NAPW provides an exclusive networking forum to successful women executives, professionals and entrepreneurs where they can aspire, connect, learn and achieve. Through innovative resources, unique tools and progressive benefits, professional women interact, exchange ideas, advance their knowledge and empower each other.