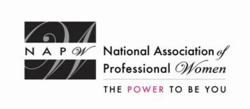 I always wanted to make a difference in the world and leave an impression.
Garden City, NY (PRWEB) January 19, 2014
NAPW honors Captain Shea R. Larson as a 2013/2014 Professional Woman of the Year for leadership in Military Intelligence with this prestigious distinction. As the largest, most-recognized organization of women in the country, spanning virtually every industry and profession, the National Association of Professional Women is a powerfully vibrant networking community with over 600,000 members and near;y 400 Local Chapters.
"I always wanted to make a difference in the world and leave an impression," says Ms. Larson, an exceptionally proud Captain in the US Army Reserves. Some of the positions she held prior to entering the military include nursing assistant, Hemodialysis technician, transit system driver, corrections officer II and tissue recovery specialist III where she assisted in numerous life-saving procedures. Her entrance into the military was where she found her life's purpose and where she was able to develop her leadership skills and put them to work.
Captain Larson is currently serving an active duty tour planning and supporting operations in the U.S. and abroad assisting in a wide variety of top secret global threat awareness, personnel management and logistics programs in collaboration with some of the U.S.'s most influential "three letter agencies." She is also responsible for delivering daily intelligence reports to a number of high-level military, intelligence and law enforcement officials in a global setting—helping to shape and improve strategic plans and mission objectives. Previous assignments include deployments as a Navy Corpsman and service as a pharmacy technician and combat medic. Her additional experience with the Veterans Benefit Administration has given her the ability to support veterans and their families throughout the claims filing process for all types of healthcare, pension, and education benefits.
About NAPW
NAPW provides an exclusive, highly advanced networking forum to successful women executives, professionals and entrepreneurs where they can aspire, connect, learn and achieve. Through innovative resources, unique tools and progressive benefits, professional women interact, exchange ideas, advance their knowledge and empower each other.