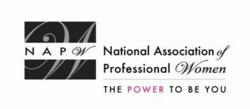 My family is very patriotic. My father and brother are in the military so I guess it's in my blood.
Garden City, NY (PRWEB) May 20, 2014
NAPW honors Lieutenant Colonel Tina Powell, NP, as a 2014 Professional Woman of the Year. Ms. Powell is recognized with this prestigious distinction for leadership in healthcare. As the largest organization of women in the country, spanning virtually every industry and profession, the National Association of Professional Women is a vibrant networking community with over 600,000 members and nearly 400 Local Chapters.
"I have been with the National Guard for 17 years," says Ms. Powell. "My family is very patriotic. My father and brother are in the military so I guess it's in my blood."
Ms. Powell, a Nurse Practitioner who says she was inspired as a child to become a nurse when she read a book about Florence Nightingale, serves as the Medical Officer for the Utah Army National Guard. Working in the clinic, Ms. Powell is responsible for ensuring that standard operating procedures are always followed. She conducts physical exams on soldiers who are being deployed or who have returned from deployment and is responsible for their yearly health reviews. "We also do a lot of humanitarian services in Africa and South America," she says. "When you see what the conditions and poverty are that they have to deal with, especially the women, it's a real reality check."
Asked what she finds most rewarding about her career, Ms. Powell says it is treating the soldiers who come back to see her year after year. "I've established a good rapport with them. Some of them have traumatic brain injuries and we're seeing a lot of mental health issues such as PTSD," she adds.
With plans to increase the services the clinic provides to healthcare students in the National Guard, Ms. Powell is working to also expand a Spanish continuing medical education course she created. Her goal is to teach more healthcare workers who don't speak Spanish how to communicate more effectively with their Spanish-speaking clients.
Among her many accomplishments, Ms. Powell considers her children, and her grandson, to be among her finest!