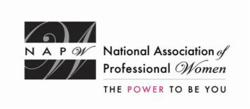 In 2008, I was asked to start a division to sell to prisons.
Garden City, NY (PRWEB) May 20, 2014
NAPW honors Jane M. Newman as a 2014 Professional Woman of the Year. Ms. Newman is recognized with this prestigious distinction for leadership in sales. As the largest, most-recognized organization of women in the country, spanning virtually every industry and profession, the National Association of Professional Women is a vibrant networking community with over 600,000 members and nearly 400 Local Chapters.
"I've been with LexisNexis for 22 years," says Ms. Newman, who was recently promoted to National Director of Sales in the Correction Division. "We are an online solutions data base that provides legal news and public records to government, corporations and legal firms."
Ms. Newman began her career at LexisNexis in the human resource department. It didn't take her long to realize she was just as qualified for the sales jobs she was recruiting for and eventually decided that sales was the career for her.
Ms. Newman's leadership and sales development skills led to her continued career growth. She eventually took on the role of National Sales Manager of the Correction Division, a department she created. "In 2008, I was asked to start a division to sell to prisons," she says. The company supplies customized, offline solutions and highly secure lock-down, online programs for federal, state and local prisons. In turn, the prisons supply those resources to their inmates so that they can research their own cases, as is mandated by law. Since taking on this role, Ms. Newman has secured a five-year contract for more than $10 million with the Federal Bureau of Prisons.
NAPW provides an exclusive, highly advanced networking forum to successful women executives, professionals and entrepreneurs where they can aspire, connect, learn and achieve. Through innovative resources, unique tools and progressive benefits, professional women interact, exchange ideas, advance their knowledge and empower each other.