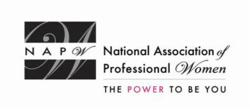 I believe my skill is in helping our business partners grow.
Garden City, NY (PRWEB) March 18, 2014
NAPW honors Danielle Lavallee Wasson, International Sales Director of Bullfrog Spas as a 2013/2014 Professional Woman of the Year for leadership in sales with this prestigious distinction. As the largest, most-recognized organization of women in the country, spanning virtually every industry and profession, the National Association of Professional Women is a powerfully vibrant networking community with over 600,000 members and nearly 400 Local Chapters.
Ms. Lavallee Wasson has been with Bullfrog Spas, the world's leading spa manufacturer, for 16 years. She started as an independent sales representative in Texas and is now the international sales director for the company. Ms. Lavallee Wasson's current role fully utilizes her expertise for recruitment of distributors and dealerships as well as her stellar sales achievements.
"I believe my skill is in helping our business partners grow," says Ms. Lavallee Wasson, who sees her job as more than just taking orders from customers. She takes great pride in knowing that Bullfrog's products are of the highest quality which is what her customers want.
Helping others succeed is Ms. Lavallee Wasson's greatest passion, which is why she was inspired to write a training manual called "30 Seconds to Greatness: 30 Second Tips to Prompt Immediate Purpose Driven Actions to Increase Sales." She will continue to offer the unparalleled customer care and signature innovation of Bullfrog Spas as she keeps pace with the exciting challenges that accompany the evolution of its brand.
About NAPW
NAPW provides an exclusive, highly advanced networking forum to successful women executives, professionals and entrepreneurs where they can aspire, connect, learn and achieve. Through innovative resources, unique tools and progressive benefits, professional women interact, exchange ideas, advance their knowledge and empower each other.