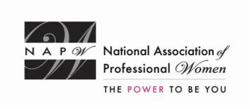 I pretty much do everything except the mechanical work on the trucks!
Garden City, NY (PRWEB) April 08, 2014
NAPW honors Terrie Pierce as a 2014 Professional Woman of the Year and recognizes her with this prestigious distinction for leadership in her profession. As the largest, most-recognized organization of women in the country, spanning virtually every industry and profession, the National Association of Professional Women is a powerfully vibrant networking community with over 600,000 members and nearly 400 Local Chapters.
"I got started in this business 20 years ago with my husband," says Ms. Pierce. "When he passed away, I took over the company."
As owner of Mike Pierce Trucking, which is headquartered in Lockport, LA, Ms. Pierce oversees the day-to-day operations of the the freight transportation company. Her responsibilities include coordinating logistics, managing the drivers and handling all administrative tasks such as payroll. "I pretty much do everything except the mechanical work on the trucks!" she says.
Ms. Pierce's excellent business management acumen along with her outstanding organizational and effective communication skills are the key elements that have made Mike Pierce Trucking a leader in the transportation industry. Although the road has not always been easy, Ms. Pierce considers the company's success under her leadership to be one of her finest accomplishments. With an eye to the future, she hopes to expand the company, increasing the number of trucks in its fleet.
About NAPW
NAPW provides an exclusive, highly advanced networking forum to successful women executives, professionals and entrepreneurs where they can aspire, connect, learn and achieve. Through innovative resources, unique tools and progressive benefits, professional women interact, exchange ideas, advance their knowledge and empower each other.