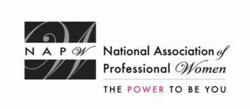 Woman who read Moxie Lady are growth-determined, courageous and interested in lifting up the lives of others!
Garden City, NY (PRWEB) March 25, 2014
NAPW honors Lori Dann, founder of Moxie Lady as a 2014 Professional Woman of the Year for leadership in business with this prestigious distinction. As the largest, most-recognized organization of women in the country, spanning virtually every industry and profession, the National Association of Professional Women is a powerfully vibrant networking community with over 600,000 members and nearly 400 Local Chapters.
"Woman who read Moxie Lady are growth-determined, courageous and interested in lifting up the lives of others," says Ms. Dann, founder and CEO, whose passion for creative self- expression prompted her to create this online female community that spans generational, cultural, economic and social lines. Her sponsor partners are companies that wish to communicate with the audience with the most influence and purchasing power - women!
As its name implies, Moxie Lady is an online community of smart, courageous and interesting women who have a lot to share. After almost 30 years in business, and a life chock-full of triumphs and challenges, Ms. Dann has decided to follow a path of passion. She believes there is a need for honest discussion and information sharing about real issues in our lives. As mothers, daughters, sisters and friends, Ms. Dann feels we have a responsibility to motivate and support each other through candid sharing about our successes and failures to help each other to achieve our personal and professional best.
Ms Dann has created an e-magazine where women can find content and share ideas on topics that interest and inspire them such as health, money, relationships, career and more. Moxie Lady is building a platform to help its readers reach further, live happier and accomplish more.
NAPW provides an exclusive, highly advanced networking forum to successful women executives, professionals and entrepreneurs where they can aspire, connect, learn and achieve. Through innovative resources, unique tools and progressive benefits, professional women interact, exchange ideas, advance their knowledge and empower each other.