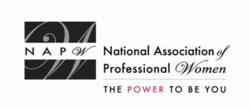 There's one story about my mom's uncle whose intended wife ran away with his oldest son. They're fun stories, what you call 'creative nonfiction.'
Garden City, NY (PRWEB) April 22, 2014
NAPW honors Mary Ann Schwehr as a 2014 Professional Woman of the Year for leadership with this prestigious distinction. As the largest organization of women in the country, the National Association of Professional Women is a powerfully vibrant networking community with over 600,000 members and nearly 400 Local Chapters.
"After I had my second stroke, I was depressed. I couldn't do anything. I used to sew, knit and crochet. But you need two hands for that and after the stroke, only one of mine works," says Ms. Schwehr, a retired librarian and schoolteacher who will soon turn 79.
Unlike many other people who have faced such challenges, Ms. Schwehr didn't give up. Instead, she pursued a new career, writing. "I figured I only needed one hand for that," she says. A lifelong book lover, Ms. Schwehr decided to take a writing course and excelled at the craft. She submitted a draft for a short story to one of her instructors and was told it was enough for an entire novel. "Writing is my third career!" she says proudly.
Ms. Schwehr went on to publish her first book, Search for Our Home. Set in the early 1800s, it's a story about six orphans "who feel compelled to escape a denigrating situation to find a home of their own." The story takes place in northwestern Massachusetts and Ms. Schwehr included many historical facts and references in the book about the area. She gathered the information for the book through hours of extensive research she conducted, including speaking to local librarians.
The daughter of a homesteader, Ms. Schwehr was born in North Dakota and moved at the age of 12 to Billings, Montana. She has also published stories in a number of magazines and is now working on her second book; this one focuses on her family's genealogy. For help with researching both sides of her family, which includes nearly 4,000 individuals, Ms. Schwehr has turned to her many relatives as she compiles countless family stories into her latest book. "There's one story about my mom's uncle whose intended wife ran away with his oldest son. They're fun stories, what you call 'creative nonfiction,'" she adds.