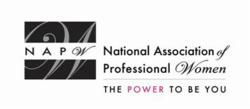 I don't just change the author's work, but pose questions to guide him or her to make changes for themselves.
Garden City, NY (PRWEB) April 08, 2014
NAPW honors Carolyne L. Ruck, Ed.D., as a 2014 Professional Woman of the Year. Ms. Ruck is being recognized with this prestigious distinction for leadership in writing and education. As the largest, most-recognized organization of women in the country, spanning virtually every industry and profession, the National Association of Professional Women is a vibrant networking community with over 600,000 members and nearly 400 Local Chapters.
"I have always enjoyed reading and writing myself, and find a great deal of satisfaction helping others clarify their writing and translate their ideas to words," says Dr. Ruck. "I strongly believe that it is important to preserve each author's unique voice."
Dr. Ruck is a retired Lieutenant Colonel in the U.S. Army Reserve. She taught in public and private schools for 11 years and is a full professor on tenure at Southern Oregon University. She became an Emeritus Professor in 2002 after 25 years of service. In addition to her work in the classroom, Dr. Ruck honed her writing and editing skills by working on various projects, including those with Interactive Media Publishing. That combined experience was her catalyst for establishing Help-U-Write in 2002.
At Help-U-Write, Dr. Ruck provides editing, proofreading and copywriting services to individuals and businesses. She works with writers and authors, assisting them with fine-tuning their books and papers, and creates copy for brochures and websites. No matter the project, Dr. Ruck carefully listens to her clients, searching out their needs by conducting thorough interviews. But she does more than simply re-write a client's words. "I don't just change the author's work, but pose questions to guide him or her to make changes for themselves," she says. "If I am creating copy for a brochure or website, I prefer to interview the individual and use the quotes and descriptors they've shared with me to give it a personal spin. I am the author's most consistent -- but honest -- cheerleader."
A published author, Dr. Ruck's work has appeared in several refereed educational journals. She is am now focusing on writing children's picture books and middle grade fiction as well as screenplays and women's fiction.