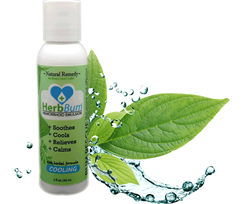 All the relief--without all the junk
Portland, Oregon (PRWEB) January 27, 2014
An over-the-counter hemorrhoid solution using only natural ingredients has just been brought into the pharmaceutical marketplace by Green Heart Labs, LLC. The new product, HerbBum™, will initially be sold online including at Amazon.com, drugstore.com and Walgreens.com.
Herbs and essential oils are the active ingredients—without additives like lidocaine, parabens, benzocaine, vasoconstrictors, steroids, mineral oil, petroleum or animal products.
That's an important point with a growing number of consumers.
"We know that traditional hemorrhoid medications combining the healing properties of potent herbs and therapeutic essential oils don't need fillers and chemicals to provide great results," says company spokesperson Sofia Runiez. "Our market will be consumers looking for a truly effective product without any worrisome additives."
"All the relief—without all the junk" is how the product website succinctly puts it.
HerbBum™ also comes with a Love it from the First Drop satisfaction guarantee, Runiez points out. "New users are especially pleased that it is liquid, pleasantly scented and not at all greasy. And because we formulated our product using pure ingredients in their natural form, we don't need to test on animals—another plus for many customers."
External hemorrhoids typically appear to be small (or large) lumps around the anus, taking the appearance of a small portion of swollen flesh, often with itching or pain. They are generally caused by poor diet, and straining during bowel movements, resulting in enlarged and inflamed blood vessels in or near the rectum.
"Popular remedies for hemorrhoids vary in their formulations, but almost all others have unnatural additives," Runiez notes.
For more information on HerbBum™ visit them online at http://www.herbbum.com.