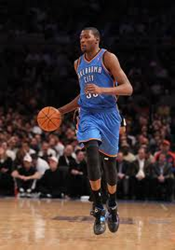 Pittsbrugh PA (PRWEB) April 08, 2014
As the National Basketball Association closes in on the highly-anticipated 2014 playoffs, predictions are flying across the country from coast-to-coast, spurring basketball fans into a frenzy of ticket-buying action. For the Western Conference, The Thunder shook the court last week when Oklahoma City shut down the San Antonio Spurs, and that's just the tip of the iceberg. Other notable teams battling it out for the Western Conference include the Los Angeles Clippers, the Houston Rockets, the Golden State Warriors and the Portland TrailBlazers. With the popularity of the teams vying for Western Conference seeding, upcoming NBA playoff tickets have become a hot commodity.
Meanwhile, the Eastern Division has its own scores to settle and this year's teams are stepping up to the challenge. The rivalry between the equally-matched Miami Heat and Indiana Pacers is approaching a fever-pitch as these two teams trade the top-ranked spot back-and-forth. The Pacers lost to the Atlanta Hawks last Sunday, but no one is willing to discount Indiana, especially when the team's track record is taken into account. Other hopefuls for the Eastern Conference include the Chicago Bulls, the Brooklyn Nets, the Washington Wizards and the Toronto Raptors. The growing hype associated with the Eastern Conferences has people clamoring for a chance to score hard-to-find upcoming NBA playoff tickets, but HeadlineTickets.com has available tickets for both conferences.
It's anybody's guess who will make the playoffs as excitement rages across the country, but one thing is clear: This looks to be a landmark season for the playoffs as team after team defies the predictions and turns in astounding game performances. Here are venues for upcoming NBA playoff tickets for the next few games so you can be sure to get your seats in advance from HeadlineTickets.com, the country's top secondary provider of sporting event tickets:
Eastern Quarterfinals: Indiana Pacers vs. TBD at Bankers Life Fieldhouse (Formerly Conseco Fieldhouse) in Indianapolis, IN
Eastern Quarterfinals: Miami Heat vs. TBD at American Airlines Arena in Miami, FL
Eastern Quarterfinals: Toronto Raptors vs. TBD at Air Canada Centre in Toronto
Western Quarterfinals: Oklahoma City Thunder vs. TBD at Chesapeake Energy Arena (formerly Oklahoma City Arena) in Oklahoma City, OK
Western Quarterfinals: San Antonio Spurs vs. TBD at the AT&T Center in San Antonio, TX
Western Quarterfinals: Houston Rockets vs. TBD at the Toyota Center in Houston, TX
Headline Tickets Now is one of the most popular secondary ticket websites on the Internet. They provide tickets for affordable sports, theater, and concert events across the United States and Canada, all without service fees. Headline Tickets Now is an accredited business with the Better Business Bureau (BBB) of Western Pennsylvania and Veteran Owned.