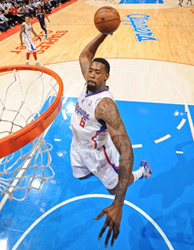 Ability may get you to the top, but it takes character to keep you there. - John Wooden
New York, NY (PRWEB) February 08, 2014
As the National Basketball Association regular season approaches the much-anticipated playoffs, here are the teams that currently lead each division:
In the Eastern Conference, the Miami Heat leads the Southeast Division with 35 wins and 13 losses. Forward LeBron James holds that league's fifth highest field goal percentage (.577).
In the Atlantic Division, the Toronto Raptors lead with 26 wins and 23 losses.
The Indiana Pacers lead the Central Division with 39 wins and 10 losses. Center Roy Hibbert has the league's third highest blocks per game (2.44).
For the Western Conference, the Oklahoma City Thunder head the Northwest Division with an impressive 40 wins and 12 losses. Forward Kevin Durant currently leads the league with an average of 31.0 points per game. Power forward Serge Ibaka holds the second highest blocks per game (2.50).
In the Southwest Division, the San Antonio Spurs lead with 36 wins and 14 losses.
Finally, the Los Angeles Clippers head the Pacific Division with 34 wins and 18 losses. Although the team doesn't have the highest win percentage in the league, they do have notable players who rank top five across almost all offense and defensive categories. Point guard Chris Paul leads in assists with an average of 11.2 assists per game, while also holding second for steals per game (2.44). For field goal percentage, center DeAndre Jordan leads with a high .653. On the defensive side, Jordan also leads with the most rebounds per game (14.0), and holds fourth for blocks per game (2.35).
The 2013-2014 NBA playoffs tip off on April 19th.
Find low prices for upcoming NBA games and more at TicketMonster.com.