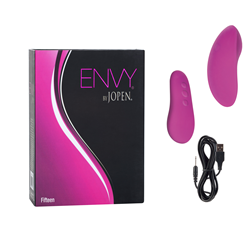 "In addition to being incredibly luxurious and sensual, the ENVY Collection is one of JOPEN's most technologically advanced product lines as it encompasses many incredible features."
Los Angeles, CA (PRWEB) November 23, 2014
JOPEN, the world's premiere luxury pleasure product company, releases five amazing additions to the luxurious ENVY Collection. These stunning new pieces are now in stock and available globally.
Susan Colvin, President and CEO of JOPEN, says, "In addition to being incredibly luxurious and sensual, the ENVY Collection is one of JOPEN's most technologically advanced product lines as it encompasses many incredible features. The incremental speed control, the USB charging cord, travel lock feature, not to mention the extreme power, make ENVY live up to its name."
The ENVY Fifteen is a brand new take on the ever-popular panty teaser. This wirelessly remote controlled teaser is petite, discreet and ergonomically shaped so that it can fit comfortably in any panty. The remote control range reaches up to 16.5'/5m, so the massager's five functions can be enjoyed during solo or partner play. It also includes a state-of-the-art memory chip, so the user can pick up where they left off.
The ENVY Eight and ENVY Nine also lets the user resume on the last function used. These 8,000RPM dual-motored stimulators have seven functions plus independent, incremental speed control. The ENVY Eight offers a flicker-like stimulation, while the ENVY Nine features large butterfly wings that hug and caress.
To demonstrate the unbelievable additions to the collection, JOPEN produced an ENVY Video Series. CalExotics Expert Sexpert, Jaiya, hosts the four-part series that not only informs consumers, but is a great training tool. The videos are available on the ENVY product pages of the website and on the company's YouTube page. The videos are also available to play on in-store video screens.
The ENVY Sixteen and Seventeen are redefining Kegel exercisers with their intense incremental speed control. These discreet exercisers have easy retrieval cords. Like other ENVY products in that they too are unscented, non-porous and hypoallergenic.
Robin Stewart, Brand Manager for JOPEN, says, "I can't believe how amazing the new ENVY products are! Everyone who sees them falls instantly in love with them—or should I say 'envies' them? They have so many sought-after features and benefits; this is certainly one for retailers to stock in their luxury toy section."
ENVY is most famous for being known as world's most powerful vibrator. All of the line's products boast a complete charge time of two and a half hours as well as independent speed control, which gives the user more options. Made of premium Silicone, they have a satin finish that is virtually seamless. Plus, they are whisper-quiet and is waterproof. The items all come with a universal USB charging cord and security travel lock function for the users on the go.
To learn more about the ENVY by JOPEN Collection, and other products and lines from JOPEN, visit http://www.JOPEN.com.
About JOPEN, LLC
JOPEN is a global luxury pleasure product company with a business model focused on form and function. An expert team of women drives the creation of JOPEN's best-selling collections: Vanity, Intensity, EGO, KEY, and ENVY. Additionally, new to JOPEN are the Essence and LUST lines. JOPEN understands the luxury market and fashions JOPEN products with the features that women and men want. JOPEN has licensed, authorized distributors, which guarantee efficient, accurate, rapid delivery so retailers always have available stock. JOPEN provides pleasure with outstanding customer service, one of the best warranty programs in existence, and products that are designed to please. Visit http://www.JOPEN.com. Encounter the new standard in luxury pleasure objects.