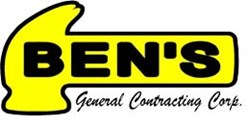 Our hope is that award money will now go further in getting people back in their homes again. At Ben's, we understand our customers' needs and their budgeting requirements. We are the only Long Island General Contractor out there fighting for you.
Freeport, NY (PRWEB) February 03, 2014
Freeport based NY Rising Contractor Ben's General Contracting Corp. has been firmly committed to homeowners receiving NY Rising funds for rebuilding their homes since the program was announced. Ben's now shares some important updates to assist local homeowners who are receiving grants from the NY Rising program.
Fire Sprinkler Update
Ben's has fought for fire sprinklers to be included in the NY Rising awards. As of January 24, 2014, NY Rising is now adding fire sprinklers, if required, to items they will pay for. In New York State, if your home will be 3 stories tall after a house lift, it is now required to have fire sprinklers throughout the home (NYS Residential code R317.3).
With the house elevation requirements for raising a home or building a new home, many Long Island homeowners will fall into this "3 story" category. There are exceptions for open foundations or if the first floor is 6' or less above grade – then the home is usually considered 2 story. How each municipality is handling this still hasn't leveled off.
"Unfortunately, they are all interpreting this rule a little differently," says Ben Jackson. "The best way to determine how your municipality is handling this situation is by discussing it with your design professional or by calling your local building department directly." There is an appeals process with the state, but it will only change the requirement for the lower floors and may add additional means of egress.
A well known Long Island Residential Contractor, Ben's notes that fire sprinklers are an extremely important safety item in the home. However, they are concerned that this could put undo financial stress on homeowners. The fact that NY Rising will be paying for the fire sprinklers is a big step in alleviating that stress.
NY Rising's $160 Per Square Foot New Construction Costs
Another change to the NY Rising program has to do with the use of $160 per square foot 'new construction' costs. This is related to new construction only. Although home builders and contractors are concerned that number may be too low, there is some light at the end of the tunnel. NY Rising is now allowing some add-on's to its $160 sq. ft. allowance. Final details are in the works and require more clarification; hopefully, this will include pilings, helical piers, grade beams and fire sprinklers.
Although this may not be inclusive enough, Freeport based Ben's General Contracting believes it will help bring the total award per homeowner closer to what they actually need. Ben's also notes that the numbers for the "NY Rising awards are not a replacement of what you have, but rather building to the local codes," according to Mr. Jackson. Homeowners are directly responsible for upgrades of materials, such as laminate counters to granite or marble, vinyl tile to ceramic tile, etc.
Removing Obstacles That Could Have Impacted Homeowners
Recently, changes were made that eliminate the excessive insurance cost increases once placed on NY Rising contractors. "We have publicly advocated for homeowners impacted by the Sandy Storm. We have been as proactive as possible to remove any obstacles to getting them back into their homes quickly and cost effectively. At Ben's, we understand our customers' needs and their budgeting requirements. We are the only Long Island General Contractor out there fighting for you."
Homeowners are advised to seek out a local, licensed, trusted Long Island general contractor that has a proven track record for helping the community rebuild and a strong reputation. If you are a homeowner looking for a Long Island contractor, call Ben's today at (516) 623-2945, or visit bgccorp(dot)com.
About Ben's General Contracting:
Ben's General Contracting is a Long Island NY General Contractor and Long Island construction company for homes and commercial businesses. The contractor's expertise is in storm recovery contracting, including building new homes, reconstructing and renovating homes, and raising homes on Long Island. Ben's proudly serves New York, NYC, Long Island (including Nassau County / Suffolk County) and customers nationwide. The company is especially convenient to homeowners in Freeport, Baldwin, Rockville Centre, Long Beach, and Merrick, NY.