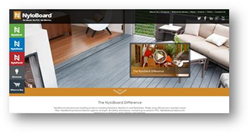 We listened to what our customers wanted in an online experience. We completely rebuilt our website to respond to these needs.
Covington, GA (PRWEB) April 02, 2014
Desktop, tablet and mobile visitors to http://www.nyloboard.com will encounter a totally new website user experience starting today, according to NyloBoard, LLC. The company is the manufacturer of NyloDeck, NyloPorch and NyloSheet eco-friendly building materials, which are uniquely made using recycled carpet fiber.
"In same the way we create and innovate our building materials products, we listened to what our customers wanted in an online experience. We completely rebuilt our website to respond to these needs," said Craig Jacks, vice president, Sales and Marketing at NyloBoard. "Everything has been revised so that visitors can enjoy browsing the site and/or finding exactly what they want, easily and efficiently."
Check out the top ten new features of the http://www.nyloboard.com site:
1. Responsive design: Whether you visit from a smartphone, a tablet or a desktop computer, you'll access all the content on the NyloBoard site, via a user-friendly interface that is optimized for all screen sizes.
2. New design and navigation: Now you'll see NyloDeck and other NyloBoard products in full screen visuals with easy-to-navigate links throughout the pages. The new site is designed with state-of-the-art programming features.
3. A Comprehensive Resource Library with one-click access to all support, documentation and multi-media resources for each NyloBoard product.
4. NyloPorch pages and resources featuring information about NyloBoard's newest offering; a tongue and groove product for porch applications.
5. "Where to Buy" database that is searchable by several different criteria, including name, location, category, zip code, etc. Map and list results make it easy to find NyloBoard products throughout the US and Canada.
6. Sample Request easy form to request samples of any NyloBoard products.
7. "Do it Yourself" Deck Designer® visualization software link to build your virtual deck online.
8. NyloBoard News pages featuring the latest news, press releases and "Decked Out" newsletter with updates about products and company news.
9. Showcase Gallery featuring images of NyloDeck in use. Watch for new showcase images to be added regularly.
10. Events Calendar: Find out where you can see NyloBoard and its products at industry or other events.
Containing no wood or PVC, all NyloBoard products are impervious to moisture, mold, mildew and termites. The company's NyloDeck brand is the ideal backyard or marine decking product. With the best expansion and contraction test ratings in the industry, it is proven to withstand fluctuations in temperature and the effects of harsh weather by not swelling, bowing or shrinking, as can happen with other composite decking materials. NyloDeck is also the only 1" composite decking material rated to span joists up 24" on center, saving contractors time and materials.
Not only are all eco-friendly NyloBoard products superior in strength and durability, the manufacturing process for them diverts the flow of traditionally tough-to-recycle scrap carpet fiber that would otherwise end up in landfills. The company's manufacturing facility is located in Covington, Georgia, and all NyloBoard products are made in the USA.
To experience the new NyloBoard site, visit: http://www.nyloboard.com.