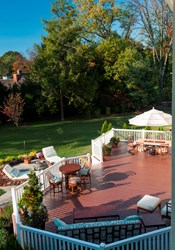 With NyloDeck, contractors get an easy-to-work with material with proven performance and homeowners get a beautiful deck that they'll enjoy for years and years.
(PRWEB) January 29, 2014
NyloBoard, LLC announced that it has now repurposed more than one million pounds of scrap carpet fiber to manufacture NyloDeck®, its eco-friendly and unique decking material since it was introduced in late 2012.
In a very short time, NyloDeck has emerged as a formidable composite decking competitor by using 100% recycled carpet fiber to create the industry's strongest and sturdiest, yet attractive and natural-looking deck board. In addition to environmental benefits, the use of recycled carpet fiber provides numerous advantages that set NyloDeck apart from any other product in its category.
Because of its exclusive composition, NyloDeck has superior strength and durability compared to other composite materials. The use of inherently durable recycled carpet fiber in a unique patented manufacturing process enables NyloDeck to handle a 200 pound live load at 16" joists; double the strength of the industry standard for deck boards. Additionally, NyloDeck can span 16" joists at a 45 degree angle, allowing for highly creative design options and intricate angles.
The process for NyloDeck allows it to be made in a variety of rich colors with the types of subtle variegations and unique grains found in natural wood. NyloDeck's appearance emulates the most exotic wood options, and the high performing deck board gives homeowners the added freedom of minimal maintenance, along with a 25-Year Limited Fade and Stain Warranty on top of a 25-Year Limited Residential Warranty.
Containing no wood or PVC, NyloDeck is impervious to moisture, mold, mildew and termites, making it the ideal backyard or marine decking product. With the best expansion and contraction test ratings in the industry, it is proven to withstand fluctuations in temperature and the effects of harsh weather by not swelling, bowing or shrinking, as can happen with other composites.
"As a company, we're committed to producing quality, eco-friendly products that directly benefit our customers. With NyloDeck, contractors get an easy-to-work with material with proven performance and homeowners get a beautiful deck that they'll enjoy for years and years," said Stuart Dimery, National Product Manager, NyloBoard. "Not only are our products superior in strength and durability, our process diverts the flow of traditionally tough-to-recycle scrap carpet fiber that would otherwise end up in landfills."
Carpet fiber used for NyloDeck is currently diverted from post-industrial carpet scrap sourced near the company's manufacturing facility in Covington, Georgia, in a region often called the carpet capital of the U.S., because of the carpet manufacturing facilities located there.
To celebrate NyloBoard's landmark use of one million pounds of recycled carpet fiber, NyloBoard is hosting a Facebook contest in preparation for its appearance at the 2014 International Builders Show in Las Vegas this February 4-6.
Facebook visitors may enter to win a NyloDeck gift basket complete with an Omaha Steaks $100 gift certificate by guessing the multiple choice answer to this question:
If one giant red carpet was the only source for NyloDeck's one million pounds of recycled carpet fiber used, what percentage of the Las Vegas strip would it cover?
No purchase is necessary and entries are due by Friday, February 7. One entry will be randomly selected to win. For more, visit: http://www.facebook.com/nyloboard.
# # #