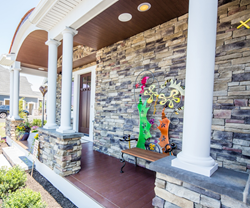 NyloPorch is an exceptionally high-performing tongue and groove porch board with material properties that contractors and homeowners enjoy with NyloDeck.
Covington, GA (PRWEB) August 29, 2014
NyloPorch, the only composite porch floor material made using 100% recycled carpet fiber, has been named one of the "100 Best New Products 2014" by Professional Remodeler magazine, a leading business resource for the remodeling and home improvement market. Manufactured by NyloBoard, LLC, NyloPorch was selected as one of the best among the thousands of products introduced in the past 12 months.
NyloPorch is a natural product extension of NyloBoard's successful NyloDeck decking, which was recognized as a Top 101 Product in 2013. The use of recycled carpet fiber instead of wood or PVC means it is completely impervious to water, mold, mildew, termites and swelling. The porch flooring is also backed by extensive testing and a 25-Year Fade and Stain Warranty in addition to a 25-year Limited Residential Warranty. The '100 Best New Products' recognition underscores how well NyloPorch has been received in the market in a very short time.
"NyloPorch is an exceptionally high-performing tongue and groove porch board with material properties that contractors and homeowners enjoy with NyloDeck," noted Stuart Dimery, national product manager, NyloBoard. "For example, NyloPorch offers the industry's best thermal expansion and contraction rates and excellent fastener retention. Homeowners also like the ability to transition from a deck to a porch with the same attractive look and colors."
NyloPorch is available in four popular colors that complement a full range of architectural styles: Mountain Mocha, Saddle Rose, Desert Spice and Coastal Mist (with special order colors Newport White and Harbor Gray). Widths include the traditional 3-1/8" face or a wider 5-1/8" profile for a more contemporary feel. Due to greater coverage per linear foot, the available 5-1/8" face of NyloPorch translates into more than a 30 percent reduction in time, labor and fasteners.
Each year, Professional Remodeler's editors review the submissions of new products, from windows to doors, roofing to flooring, and everything in between, that represent the residential construction industry's latest "breakthrough" technology. The 100 Best New Products of 2014 were announced in the August issue of Professional Remodeler and posted online at http://www.ProRemodeler.com.
Visit http://www.nyloboard.com for more information about NyloPorch and all NyloBoard products, including NyloDeck and NyloSheet.
# # #
About NyloBoard
NyloBoard, LLC is a manufacturer of superior building products whose patented process uses recycled carpet fiber to create exceptionally strong, durable and eco-friendly products, containing no wood or PVC. NyloBoard products help stop the waste stream of carpet fiber that currently contributes billions of pounds of non-reclaimable waste to landfills each year by using it to create products including NyloSheet®, NyloDeck® and NyloPorch®. Nyloboard also takes pride in manufacturing eco-friendly building products that are impervious to moisture, rot, termites, mold and mildew. NyloBoard's manufacturing facility is located in Covington, Georgia, just outside of Atlanta.