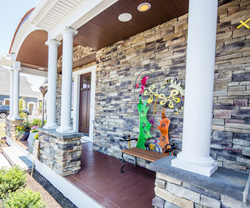 NyloPorch is an exceptionally high-performing tongue and groove (T&G) porch board alternative to what is currently available.
Covington, GA (PRWEB) October 30, 2014
Building materials manufacturer NyloBoard, LLC, announced it has received its Code Compliance Research Report (CCRR) 0183 from Architectural Testing, Inc. for NyloPorch®, its new tongue and groove (T&G) porch board developed for porch floor applications. NyloBoard's composite building materials products are made using 100 percent recycled carpet fiber and contain no wood or PVC.
The CCRR confirms NyloPorch's compliance with ICC-ES™ Acceptance Criteria, AC-174 and ASTM D 7032. Receiving the CCRR demonstrates that NyloPorch has met the rigorous requirements set forth by the International Code Council (ICC), who ensures the safety and reliability of building products and provides safeguards for people at home, at school and in the workplace. The report further documents compliance with the requirements of the 2012 International Building Code (IBC), 2012 International Residential Code (IRC).
"Meeting these code requirements ensures that NyloPorch upholds the highest standards for safety and reliability," said Stuart Dimery, NyloPorch national product manager at NyloBoard. "NyloPorch is an exceptionally high-performing tongue and groove (T&G) porch board alternative to what is currently available."
NyloPorch is rated for a uniform live load of 100 lbs./psf when installed on support framing spaced at up to 24 inches, making it one of the strongest porch flooring products on the market. The porch flooring is also backed by extensive testing and a 25-Year Fade and Stain Warranty in addition to a 25-year Limited Residential Warranty.
NyloPorch offers features that contractors and homeowners enjoy with the company's successful NyloDeck decking product. Its unique material composition using recycled carpet fiber means that NyloPorch is impervious to moisture, mold, mildew and termites. It eliminates concerns about swelling and shrinking due to moisture, as well as splitting and cupping that can occur with wood. NyloPorch also possesses the best expansion and contraction rate of all composites.
"With its strength, durability and natural wood appearance, NyloPorch's proven material properties are unmatched in today's marketplace. And with NyloPorch and NyloDeck, you can design a smooth transition from porch to deck, with the same attractive look and colors," added Dimery. "It is also noteworthy that NyloDeck and NyloPorch are the only products with a code compliance report that specifically allows for diagonal installation at 16" centers."
NyloPorch is available in six popular colors: Mountain Mocha, Saddle Rose, Desert Spice and Coastal Mist (with special order colors Newport White and Harbor Gray). Widths include the traditional 3-1/8" face or a wider 5-1/8" profile for a more contemporary look. Due to greater coverage per square foot, the available 5-1/8" face of NyloPorch translates into more than a 30 percent reduction in time, labor and fasteners.
In August, NyloPorch was named one of the "100 Best New Products 2014" by Professional Remodeler magazine, a leading business resource for the remodeling and home improvement market. NyloPorch was selected as one of best of the best among the thousands of products introduced in the past 12 months.
A full copy of the CCRR 0183 is available on NyloBoard's Web site at http://www.Nyloboard.com.
About NyloBoard
NyloBoard, LLC is a manufacturer of superior building products whose patented process uses recycled carpet fiber to create exceptionally strong, durable and eco-friendly products, containing no wood or PVC. NyloBoard products help stop the waste stream of carpet fiber that currently contributes billions of pounds of non-reclaimable waste to landfills each year by using it to create products including NyloSheet®, NyloDeck® and NyloPorch®. Nyloboard also takes pride in manufacturing eco-friendly building products that are impervious to moisture, rot, termites, mold and mildew. NyloBoard's manufacturing facility is located in Covington, Georgia, just outside of Atlanta.
Visit http://www.nyloboard.com for more information.