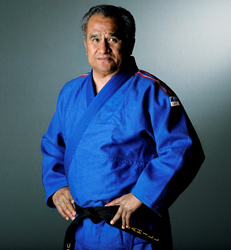 "Knowing what's right doesn't mean much unless you do what's right." ― Theodore Roosevelt
San Francisco, CA (PRWEB) October 01, 2014
The Blind Judo Foundation and Cahill's Judo Academy has a zero tolerance for bullying. Now is the time when you and your organizations can unite nationwide raising awareness of the alarming epidemics of bullying. Sports like Judo taught by Coach Willy Cahill, Co-Founder of the Blind Judo Foundation and Head Coach of Cahill's Judo Academy along with his seasoned Instructors goes beyond "the gentle way" says the Coach in learning to respect your opponent on and off the Judo mat.
The Coach goes on to say, "We need to raise the alarm with children, parents, teachers, coaches and leaders that there is no place for bullying." He goes on to say, "Researchers have discovered that students with disabilities like our blind and visually impaired athletes were more worried about school safety and being injured or harassed by other peers compared to students without a disability."
Ron C. Peck, Co-Founder of the Blind Judo Foundation quotes a 2010 Davis and Nixon report that says, "When reporting bullying youth in special education were told not to tattle almost twice as often as youth not in special education." "Having to harbor bullying leads to risk for depression, anxiety, sleep difficulties and poor school adjustment" reports Peck.
Cahill's Judo Academy enrolls students of all ages who have experienced bullying and who are not sure how to regain their confidence and stand-up against this epidemic. As Coach Cahill will say, "Learning Judo is not about demonstrating your Judo skills, but to build great moral character and attitudes thereby learning how to stand-up to bullying." Studies have shown that children with disabilities like blindness or visual impairment are two to three times more likely to be bullied than their non-disabled peers.
It's been said that one cannot be intimidated or bullied unless they themselves allow it. That is easy to say but how does one build that confidence and enhancement their core character? In the case of the blind and visually impaired, one method is training in a sport called Judo. It does not imply that one employ Judo techniques against the bully but knowing how-to manage, confront or avoid situations of bullying with the skills learned through the sport of Judo.
It is important for those who are being bullied to report it to teachers, counselors or coaches if it is on school grounds; or HR departments if in the corporate world; or to parents and loved one. We all need to be acutely aware of the epidemic of bullying and not sweep it under the rug.
More resources are available at Pacer's the National Bullying Prevention Center. Do not delay; stand against all forms of bullying especially Ending Bullying Begins with You.
About us:
The Blind Judo Foundation is a nonprofit 501(c) (3) organization that introduces and trains blind and visually impaired children, young adults and returning blind and visually impaired military men and women in the sport of Judo. Supporting our blind athletes to train, travel and compete relies upon tax-exempt donations.
All members of the Blind Judo Foundation are volunteers. A select few of our elite athletes go on to represent the USA as members of the US Paralympic (not to be confused with Special Olympics) Judo Team. Check out the Foundation and our Facebook page at http://www.facebook.com/BlindJudoFoundation or by contacting Ron C. Peck at roncpeck(at)blindjudofoundation(dot)org and 1-425-444-8256.