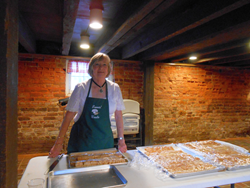 Wolfgang and I started the festival all on our own to show people what to do.
Hopewell, Virginia (PRWEB) September 30, 2014
The first Oktoberfest for Hopewell, Virginia, was a sell-out, with 150 people attending the inaugural event on September 26. Attendees enjoyed sauerbraten and bratwurst, beer and Rhine wine, lively music and beautiful weather for the outdoor event, which took place in a tent on the lawn of the 18th Century Weston Plantation on the Appomattox River in Hopewell.
"Fantastic!" was the evaluation of the crowd. Flags representing the 16 provinces in Germany (Bundeslaender) made a colorful background around the tent.
Hans Stienen, president of the German-American Sports Club in Richmond, ladies from the German Speaking Damenklub of the Tri-Cities area and numerous members of the German-American Sports Club attended the event. The ladies of German descent wore Bavarian peasant costumes (dirndls) and the gentlemen sported Lederhosen, white knee socks and Tyrolean Alpine hats.
Ursula and Wolfgang Grimm, residents of Prince George County, Virginia, were originators of the event, cooks and chief bottle-washers, as the saying goes. After supporting the Richmond Oktoberfest for 20 years, they decided it was time to bring the Munich-inspired fall festival to Hopewell.
Ursula cooked for more than a week to feed the 150 guests, following recipes from her native province of Baden-Wurttemberg in Southern Germany. She used 47 pounds of rump roast for the sauerbraten, ten pounds of flour to make the spaetzle and 22 pounds of red cabbage. She also made 45 pounds of her German potato salad and had 25 boxes of apple strudel shipped from a German bakery in Macedonia, Ohio.
While Ursula oversaw the food, Wolfgang played music with his four man "Schapsbrenner Band", which included Erich Albus, Hans Majko and Hans Stienen.
"Wolfgang and I started the festival all on our own to show people what to do," said Ursula. She hopes that other people will help next year should this become an annual event.
About Weston Plantation
Proceeds from the Oktoberfest will benefit the Historic Hopewell Foundation. As part of Foundation's mission to engage the community, Weston Plantation hosts a series of year-round events, featuring food, music and scenic views, along with a sense of history. The Historic Hopewell Foundation was created in 1972 to preserve the 225-year-old manor house located on the Appomattox River in Hopewell, Virginia. Listed on the National Register of Historic Places, the Weston Manor House is considered a classic example of Virginia Georgian architecture. Much of its original interior has been preserved and the house has been furnished with antiques from the period as well as selected reproductions.
For information on events at Weston Plantation, visit http://www.historichopewell.org/.