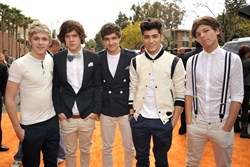 Everyone loves One Direction, and you can find the best deals on their concert tickets at Ticket Monster!
New York, New York (PRWEB) February 10, 2014
The 2014 Where We Are stadium tour by One Direction will begin in North America on August 1st of 2014. The first show will kick off in Toronto, but will make its way all over the country until early October. The tour will hit 21 cities, and was first announced live on "Good Morning America" last year. This popular all boy band is from England, but they are very excited about performing in America for their non-English fans.
Once this tour was announced, the group decided it was not big enough and picked up a few extra tour stops. Shows in Philadelphia, Foxboro, Detroit, Chicago, and more were all added to the already humongous list! It is estimated that this One Direction tour will be one of the top grossing tours of all time, right up there with U2 and The Rolling Stones. This One Direction group sure did become popular fast! One Direction fans can find their tickets to any one of these concert legs at Ticketmonster.com for the best prices on the web! The following are the 2014 one Direction tour dates in North America:
August 1st – Rogers Centre, Toronto, Canada
August 4th – MetLife Stadium, East Rutherford, New Jersey
August 7th – Gillette Stadium, Boston, Massachusetts
August 11th – Nationals Park, Washington, D.C.
August 13th – Lincoln Financial Field, Philadelphia, Pennsylvania
August 16th – Ford Field, Detroit, Michigan
August 19th – LP Field, Nashville, Tennessee
August 22nd – Reliant Stadium, Houston, Texas
August 24th – AT&T Stadium, Dallas/Fort Worth, Texas
August 27th – Edward Jones Dome, St. Louis, Missouri
August 29th – Soldier Field, Chicago, Illinois
September 12th – Rose Bowl, Los Angeles, California
September 16th – University of Pheonix, Pheonix, Arizona
September 19th – Sunbowl Stadium, El Paso, Texas
September 21st – Alamodome, San Antonia, Texas
September 23rd – BOK Center, Tulsa, Oklahoma
September 25th – Mercedes-Benz Superdome, New Orleans, Louisiana
September 27th – PNC Music Pavillion, Charlotte, North Carolina
October 1st – Georgia Dome, Atlanta, Georgia
October 3rd – Raymond James Stadium, Tampa, Florida
October 5th – Sun Life Stadium, Miami, Florida
Ticket Monster has the cheapest prices on the web for One Direction tickets in 2014. Their stadium tour is going to be off the charts, and fans can be a part of it by purchasing their tickets with Ticket Monster. Ticketmonster.com is great for concert tickets, as well as sporting events and theater shows. Visit the site today or call 866-217-4777 for more information.