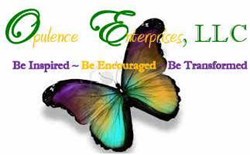 Conyers, GA (PRWEB) January 28, 2014
Opulence Enterprises Atlanta held its Rockdale-Conyers Chamber of Commerce Ribbon Cutting Ceremony January 22, 2014 at their Conyers, GA office. "Opulence is committed to helping communities in Rockdale County and beyond grow exponentially", says, LeTonya Moore, CEO and Chief Counsel. Tom Harrison, a Rockdale Conyers Chamber Ambassador said, "This is the best turn out for a ribbon cutting that I've seen." Opulence Enterprises Atlanta has three divisions: Entrepreneurial; Equality and Social Justice; and Entertainment.
The Entrepreneurial Development Division provides services for start-ups, small and medium sized municipalities; small and medium sized businesses; faith and community based organizations; and individuals. The services include but are not limited to, Psychometric Career Assessment and Matching; Strategic Planning; Business Growth and Acquisition Plans; Segmented Marketing; HR & Employment Law Compliance Training; Presentation Skills and Pitch Development Training.
The Equality and Social Justice Division is the Public Policy and Advocacy arm. This division seeks to work alongside public safety departments, departments of correction, judiciary, executive government, individuals, faith based and community organizations to provide effective solutions to community effects of incarceration, recidivism, reintegration, and domestic violence. Opulence presently serves existing re-entry organizations, small to medium sized municipalities, faith based organizations, small businesses, and individuals who seek to achieve full reintegration, not just re-entry. The Returning Citizen Reintegration Program is designed to complement existing re-entry efforts on the front and/or the back end. On the front end Opulence provides a special needs and career skills screening; second chance banking accounts; rights restoration assistance, spiritual counseling, and several other coordinated services.
The back end services include all front end services, as applicable, along with career coaching; business development, and much more. Opulence has several collaborative and community partners who closely consider program graduates for career and business investment opportunities.
The Entertainment Division works with fine arts, musical, performing arts, authors, and other professionals to help them build their business brands. This division is charged with creating client platforms, business development strategies, imaging and branding, and much, much, more.
###
About Opulence Enterprises, LLC: Opulence Enterprises, LLC provides business growth coaching, consulting, and representational services to individuals, small to medium sized municipalities, businesses, and organizations. Opulence Enterprises Atlanta office is the new headquarters and houses three divisions: Entrepreneurial and Employment; Equality and Social Justice; and Entertainment. Opulence was founded in 2007, by Attorney LeTonya F. Moore who presently serves as Chief Counsel. For more information about Opulence, visit our website or call 888-973-3015.