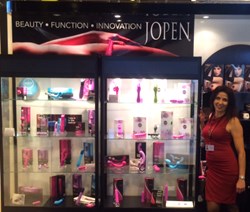 What a magnificent turnout! Everyone loved the JOPEN products.
Paris, France (PRWEB) February 03, 2014
JOPEN, the world's premiere luxury pleasure product company, was featured in the Concorde Booth at the Salon International de la Lingerie, which took place January 25-27th at the Paris Expo. The trade show premieres lingerie, swimwear, and club wear, from designer labels and brands.
Susan Colvin, President and CEO of JOPEN, says, "We're very pleased to partner with Concorde and thank them for showcasing the JOPEN brand. The booth was stunning and they did a great job presenting the luxurious JOPEN products to the show's attendees."
Salon International de la Lingerie draws more than 26,000 visitors and spotlights 550 brands. It is attended by 600 journalists and is the center stage for new and innovative products for the lingerie and fashion world.
Angela Mustone, International Business Development Executive for JOPEN, attended the show. She says, "What a magnificent turnout! Everyone loved the JOPEN products. Our friends at Concorde are always amazing to work with and we look forward to a prosperous future together!"
Concorde's booth showcased items from the KEY and LUST Collections. Embrace, a line from JOPEN's sister company, California Exotic Novelties, was also displayed.
To learn more about JOPEN visit http://www.JOPEN.com.
About JOPEN, LLC
JOPEN is a global luxury pleasure product company with a business model focused on form and function. An expert team of women drives the creation of JOPEN's best-selling collections: Vanity, Intensity, EGO, KEY, and ENVY. Additionally, new to JOPEN are the Essence and LUST lines. JOPEN understands the luxury market and fashions JOPEN products with the features that women and men want. JOPEN has licensed, authorized distributors, which guarantee efficient, accurate, rapid delivery so retailers always have available stock. JOPEN provides pleasure with outstanding customer service, one of the best warranty programs in existence, and products that are designed to please. Visit http://www.JOPEN.com. Encounter the new standard in luxury pleasure objects.