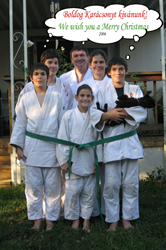 Learn from the past, set vivid, detailed goals for the future, and live in the only moment of time over which you have any control: now.Denis Waitley
San Francisco, CA (PRWEB) March 31, 2014
The amazing Kabai Family of the SF Bay Area is no stranger to setting audacious goals benefiting others like the work and mission of the Blind Judo Foundation. This loving family of six are all Judo (Judoka) athletes. They've learned and practice the tenets of Judo incorporating those values into their daily family, personal, social and community lives.
During the summer of 2012 Peter and Janos Kabai biked 3869 miles from NYC to San Francisco. It took them through 13 States over 77 days meeting interesting people along the way. Besides the challenge of riding bicycles across America without any outside support, was secondary to their vision of shedding light on the work of a nonprofit organization empowering the lives of the blind and visually impaired through the sport of Judo.
With the knowledge in training and practicing the sport of Judo, one could not imagine the blind and visually impaired individuals attempting this sport assumed exclusively for the sighted. They knew the difference having started their Judo career under the legendary Coach Willy Cahill of Cahill's Judo Academy in San Bruno (SF Bay Area), CA and his training of the blind in Judo.
The iconic Coach Cahill was the former US Olympic and US Paralympic Judo Coach. Coach Cahill, Co-Founder of the Blind Judo Foundation was the first Olympic/Paralympic Judo Coach of the 2000 US Paralympic Judo Team to win Gold for America at the Paralympic Games in Sydney, Australia.
The infectious love of Judo among the blind and visually impaired is what has driven the Kabai Brothers to dedicate the summer of 2014 to raise awareness, sponsors and funding to support needy and worthy blind athletes to attend Judo camps, tournaments and travel domestically and internationally gaining experience. Some of those blind athletes are already training in hopes of becoming candidates for the 2016 US Paralympic Judo Team that will represent the USA in Rio de Janeiro.
The Blind Judo Foundation is a nonprofit 501(c) (3) organization whose mission is to empower the blind and visually impaired using the tools and tenets of Judo. The Funding of blind and visually impaired athletes to train, travel domestically and internationally is through tax exempt donations, their financial life-line. Your generous Donations are tax exempt. To learn more about the Foundation, check out blindjudofoundation.org and at Facebook or contact Ron C. Peck at roncpeck(at)blindjudofoundation(dot)org or 1-425-444-8256.