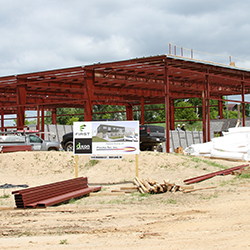 This new facility will allow Plasma-Tec to maintain their exemplary quality record while adding capacity.
Byron Center, Michigan (PRWEB) June 18, 2014
Plasma-Tec, Inc., a Michigan-based manufacturer of coated and non-coated wear components for the fluid movement industry, is in the midst of building a brand new facility. The new building will allow Plasma-Tec to add more cutting-edge manufacturing technology and improve operational efficiencies, in addition to making it an exceptionally safe environment for employees.
The project, which broke ground in February of 2014, should be completed in time for operations to commence from the new facility by December of 2014. The building will be located in Moline, Michigan, approximately eight miles from the current location in Byron Center, Michigan.
"This new facility is about more than just getting bigger," said Bryan DeGroot, Plasma-Tec's General Manager. "We designed this space with our customers in mind. We anticipate that our customers will have their parts in hand even faster due to reduced lead times and delivery improvements. On top of that, the office space will have a more collaborative flow, which in turn will allow us to provide an even more rapid response to our customers."
Plasma-Tec's Vice President, Chris Wysong, said: "This new facility fits with our leadership team's desire to create the best working environment for our team, for each individual working at Plasma-Tec. Through our efforts as a team we have grown, and continue to grow at a steadily increasing pace. Everyone here has a sense of pride in a job well done."
OEMs from all over North America have long turned to Plasma-Tec for wear components made exactly to specifications, and this new facility will allow Plasma-Tec to maintain their exemplary quality record while adding capacity.
Plasma-Tec, Inc. is a precision machining & grinding and wear & corrosion coating services provider. The company produces round, turned, and ground components of medium-to high-precision of 1" to 8" in diameter. The manufacturing processes and thermal spray coatings utilized by Plasma-Tec make them a preferred source for wear components for companies in the oil & gas, food, and pharmaceutical industries. You can learn more about Plasma-Tec by visiting http://www.plasma-tec.com or calling 1-800-643-6030.