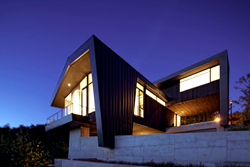 Portland, OR (PRWEB) March 14, 2014
The third annual Portland Modern Home Tour is taking place at the end of March and will once again give attendees the opportunity to explore some of the area's most unique homes that exemplify modern architecture and living. Get the inside scoop from homeowners on what it's like to live in a modern home; and talk to the architects to find out where they got their inspiration. This is every Portland resident's chance to check out 'that cool house you always drive by…'
Local architecture expert Brian Libby, founder of portlandarchitecture.com, has selected and curated these nine incredible homes for this year's tour:
(1) A recently renovated mid-century Rummer house in the Garden-Home Whitford neighborhood of Tigard, originally built in the Eichler Home style (design plans co-created by A. Quincy Jones!), and recently renovated by current owners Tyler Stone and Patrick Hinds of the local electronic pop band Sutro.
(2) A home in Northwest Heights by award-winning firm Skylab Design that is situated on a steeply sloping bank at the end of a small street, and features two living volumes stacked perpendicular to one another in a T-formation.
(3) An extensive remodel and addition (completed by SERA Architects) to an historic 460 sq ft 1919 home in Northeast Portland's Concordia neighborhood.
(4) The Faulkner/Koehler Residence, a complete rebuilding of a 1953 home by Raphael Design, located in the heart of the Mt. Tabor neighborhood.
(5) The L-shaped Dominic House in Grant Park, by GSB Design, complete with courtyard and gas fire pit.
(6) A mid-century modern Lake Oswego home built in 1955 by acclaimed local architect Warren Webber, which was recently renovated by MOA Architecture in partnership with interior design firm JHL Design.
(7) The ultra-compact (just 13-feet wide) Irvington Residence by DAO Architecture in Portland's Irvington neighborhood that exemplifies sustainable design and efficient living in a modern space.
(8) A model unit in the brand new Sawyer's Row apartments, designed by the highly-acclaimed and award-winning firm, Holst Architecture, and part of Portland's Northwest Plan District.
(9) The four-story Tower House, located in Northwest Heights, that is shaped cylindrically and based on the idea of a medieval tower, designed by award-winning architect Ben Waechter.
Participating homes in the 2014 Portland Modern Home Tour will open their doors for viewing from 11AM – 5PM on Saturday, March 29th, in the Portland, Oregon area. All are invited to attend. Kids under 12 are free (when accompanying their parents). Tickets for each tour are $30 in advance online; $40 on the day of the tour.
Modern Home Tours is offering a special discount for the back-to-back Seattle (March 22) and Portland (March 29) Modern Home Tours. When a ticket is purchased for either tour, a ticket for the other tour will be available for just $10 more. For more details on the Portland Modern Home Tour and how to buy tickets, visit http://modernhometours.com/event/portland.
About Modern Home Tours, LLC: Based in Austin, Texas, Modern Home Tours, LLC was founded by partners Matt Swinney & James Leasure in 2010 to introduce modern architecture and living to people across the nation. Through fun and informative tours in dozens of cities across the USA and Canada, the group invites people into some of the most exciting examples of modern architecture and design in the nation. With carefully selected architects, neighborhoods and architecture, the Modern Home Tours are unlike anything you've ever seen. Not only will you learn about the cutting edge of home design while on our tours, but you might even get an idea or two for your next home project.