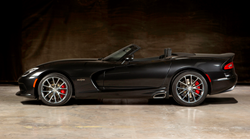 This addition provides us with every element necessary to develop new specialty performance vehicles, while at the same time expanding opportunities with our existing customers.
Rochester Hills, Michigan (PRWEB) August 11, 2014
Just two weeks ago, Rochester Hills based Prefix Corporation raised quite a few eyebrows as they unveiled a convertible Viper conversion called Medusa, a visually stunning drop-top version of the iconic American supercar. The car was enthusiastically received by over 500 Viper Association members that were there for a behind-the-scenes tour of the world-class Prefix Coatings paint facility. Orders were immediately placed for the car, and it prompted many to speculate what might be next from Prefix and their performance division.
As many had hoped, "what's next" will likely include additional Prefix Performance vehicle creations, ensured by today's announcement that the rumored acquisition of Arrow Racing Engines is now a reality. Arrow was founded over thirty years ago to support all aspects of Chrysler Motorsports, Performance Parts, and Production. Their team was also involved with the Dodge Viper V-10 engine development, supporting design, research and testing. Their innovative engineering and history of quality products and services, makes for a perfect addition to the Prefix family of companies. The engineering expertise and experience of Arrow's Lee Carducci will continue to oversee operations. "Combining the powerful skill sets of these companies creates some very exciting opportunities for the future." said Carducci.
Additionally, Prefix purchased the assets of Arrow Performance Parts in Canton, Michigan and will combine them with their Prefix Tool business, allowing for the machining of complex engine blocks and heads.
Experienced in working with every major automotive OEM in the world, Prefix has become a fully functioning manufacturing outlet, with far reaching capabilities that include: special custom vehicle projects, luxury interiors, prototyping, vehicle models, precision machining, high-tech paint and finishing, and now… engine and powertrain development and testing. "The engine development and performance expertise was all that was absent." says Prefix CEO, Kim Zeile. "This addition provides us with every element necessary to develop new specialty performance vehicles, while at the same time expanding opportunities with our existing customers."
For many years, Prefix has quietly designed, engineered, and created styling enhancements for show vehicles, private owners, and even the motion picture industry. With the acquisition of Arrow Racing Engines, Prefix now combines styling with performance, and it screams automotive passion as loud as a race-tuned V-10. For additional information on Prefix Corporation and their expanding capabilities, visit http://www.Prefix.com