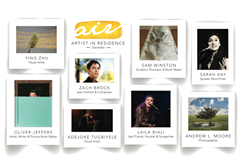 It's our most ambitious artist program to date.
Atlanta, GA (PRWEB) May 16, 2014
Serenbe Artist in Residence (AIR) program announces the 2014 lineup of nationally recognized artists that will bring over 100 days of art to Serenbe. The eight artists chosen to live and work at Serenbe for 2014 will engage in over 20 public art events during their stay. Artists include two jazz musicians, a New York Times award-winning illustrator and bookmaker, a New Yorker Magazine artist, a 2014 Guggenheim Fellow, a TED speaker and nationally recognized spoken word poet, an Anderson Ranch Workshop Scholar and a current Fulbright Fellow.
"We are thrilled to announce the 2014 residencies, it's our most ambitious artist program to date." states Tom Swanston, AIR Board Co-Chair. A May 25th launch party is planned to kick-off the program with the first artist, Ying Zhu. The event will be held at Serenbe in the heart of the community at the Selborne Market Green at 6 p.m. "It's a tradition that each artist is welcomed with food and drink" says Janice Barton, AIR Board Co-Chair, "and this party will be a potluck supper to launch our exciting artist line-up." More information http://on.fb.me/1lg2fry
The 2014 AIR program kicks off May 15th with Ying Zhu, visual artist and Anderson Ranch Workshop Scholar, who will be in residence through June 3rd. Zhu, along with other artists, will be hosted at an afternoon artist dialogue with local artist, curator and graphic novelist Kevin Sipp during her stay. The Artist Dialogue will be free and open to the public, on May 24th at 2 p.m. sponsored by The Bosch Experience Center at Serenbe.
Artist residencies that follow are Zack Brock, jazz pianist, Oliver Jeffers and Sam Winston, who will be illustrating a book together, Laila Biali, vocalist and jazz pianist, Adejoke Tugbiyele, Fulbright Fellow recently returned from Nigeria, Sarah Kay who returns to perform spoken word at Serenbe, and Andrew L. Moore, international photographer and a 2014 Guggenheim Fellow. All artist dates and details http://www.airserenbe.com/calendar/
Serenbe Artist in Residence (AIR) is a non-profit artist residency program located at Serenbe in Chattahoochee Hills, GA. The program was formed in 2005 with a mission to promote the creative process by providing artists of the highest caliber time, space, stipend and a welcoming community within which to create.