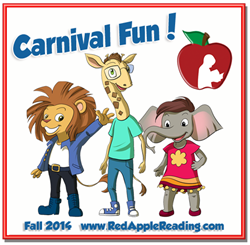 We think this will prove to be one of the most comprehensive preschool programs available for reading readiness.
Beaumont, CA (PRWEB) May 20, 2014
Red Apple Reading has unveiled the final installment in their "Learning to Read" trio—a fun new pre-reading program just for preschoolers. "Carnival Fun" is now in development and on target for a fall 2014 roll-out. And boy, does it have some great tricks in store!
Aimed at preschool-level children ages 3 to 5, Carnival Fun will make Red Apple Reading a complete program for young language learners from Pre-K to third grade, an expansive group that will cover even more households and classrooms than the thousands already engaged in the Red Apple Reading program.
Visitors to Carnival Fun will have access to fifteen different activities, plus engaging storybooks and short learning videos. The pre-reading crowd will learn a slew of necessary early reading skills, including: letter and sound recognition, beginning and ending sounds, vocabulary, rhyming, print concepts, memory, and attention skills.
Participants will enjoy moving freely through a carnival-themed atmosphere with an arcade, Ferris wheel, roller coaster, and more. There will also be some brand new characters to help out —"Ringmaster Ryan," "George Giraffe," "Ellie Elephant," and "Marcus Money" to name a few.
For Carnival Fun, Red Apple Reading has teamed up with two key development partners to ensure the same standards that have made the first two installments of the trio such a success. For graphics and animation, Red Apple Reading collaborated with Deveo Media, the team that helped with "Island Adventures" and the upgrade of "Park Planet." The ten stories in Carnival Fun will be given their narrative touch by celebrated author Joanna Robinson, PhD, who penned the stories for Island Adventures.
Tammy Bennecke, president and founder of Red Apple Reading, commented recently that Carnival Fun is also built around a large amount of age-specific cognitive development studies.
"We based the teachings of this pre-reading level on research about how the brain picks up the skills necessary to become a successful reader," Bennecke said. "We think this will prove to be one of the most comprehensive preschool programs available for reading readiness."
Prior to the fall 2014 release of Carnival Fun, Red Apple Reading users can take advantage of the first two levels of the trio, Island Adventures and Park Planet, which will get a fresh feel after a summer upgrade. Covering basic reading skill from Kindergarten to 3rd grade, these levels are now available online and in iTunes. Purchase of a Complete Package ensures free access to Carnival Fun when it releases.
About Red Apple Reading:
Red Apple Reading was founded in 2011 by educator Tammy Bennecke. With the aim of fulfilling their motto of being "a small company with a big heart," Red Apple Reading is in the process of developing a full range of pre-kindergarten through third grade reading products. Find out more about Red Apple Reading at http://www.RedAppleReading.com.