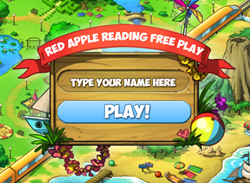 The Free Play page is one more way to showcase the program's many benefits, and allow even more children the opportunity to use Red Apple Reading.
Beaumont, CA (PRWEB) January 28, 2014
In the gaming world of arcade tokens, expansion packs, and an array of other high-cost access, paying for upgrades has unfortunately become commonplace. But not for one reading software company-- Red Apple Reading, whose online children's reading program teaches key reading concepts to grade school students by using interactive videos and games.
Last week, Red Apple Reading unveiled a brand new page on their website, which offers the entire first unit of one of the program's newly-developed levels with no charge, but with all of the learning benefits.
The new page allows users to try their hand at "Island Adventures," a Red Apple Reading level released earlier this month. By accessing the Free Play page on the Red Apple Reading website, users have full access to the first five lessons and unit review of Island Adventures for no cost. Each unit includes phonics and sight word instruction and activities, as well as an entertaining decodable storybook and reward game.
Tammy Bennecke, president and founder of Red Apple Reading, says the new web page was created with the intent of showing an expanded group of students, teachers, and parents the level of instruction the Red Apple Reading program offers.
"Our mission is to help children, and we want parents to see the high-quality graphics, solid fundamental reading instruction, and engaging videos that both entertain and teach their children," Bennecke said. "We feel that the Free Play page is one more way to showcase the program's many benefits, and allow even more children the opportunity to use Red Apple Reading."
Bennecke noted that Island Adventures access (best for ages 6-9) is just the start of this complimentary bonus. Red Apple Reading plans to open up more units for no cost; Park Planet (ages 5-7) and Circus Surprise (ages 3-5) will both have sections offered for no charge in the coming months.
Bennecke knows the no-cost offerings are far from "something for nothing" for those who take advantage of the new page.
"Instead of offering a trial membership, or having customers buy the program and find it's not a good fit for their child, we've taken the guessing out of the equation," Bennecke said. "We stand behind our program and so do our many satisfied users, but in the end, we just want to get the program out to children who need it and help them improve their reading skills, which increases their chances for a successful life."
In addition to allowing parents the option of trying the program before purchasing, Red Apple Reading also has a 100 percent satisfaction and 30 day money back guarantee when the program is purchased from their website.
To visit Red Apple Reading's Free Play page and learn more about the program, visit http://www.redapplereading.com/freeplay.
About Red Apple Reading:
Red Apple Reading was founded in 2011 by educator Tammy Bennecke with the mission of helping children everywhere learn how to read. A small company with a big heart, Red Apple Reading is in the process of developing a full range of pre-kindergarten through third grade reading products. Further goals include upper elementary/middle school reading adventure games and a full line of mobile apps. Red Apple Reading also plans to expand into other subject areas as the company's growth continues. Find out more about Red Apple Reading at http://www.RedAppleReading.com.