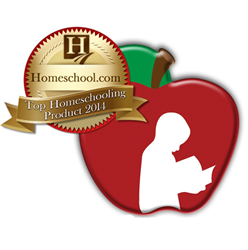 There are hundreds of videos and games to watch and play and your children can choose what to play.
San Luis Obispo, CA (PRWEB) November 12, 2014
When Tammy Bennecke, founder and president of Red Apple Reading, had the opportunity to have her online reading program for students in kindergarten through third grade reviewed by Homeschool.com, she knew she'd be reaching out to quite a crowd. A 2013 government study found over 1.7 million students (about 3.4 percent of the school-aged population) receives their education at home.
In mid-October, when Red Apple Reading earned the "Top Homeschooling Product Award" for 2014, the team felt like the many facets of home-friendly usage incorporated in Red Apple Reading were a real "home run" — at least to the more then 2,000 members of the homeschooling community who voted during Homeschool.com's annual curriculum review survey.
A review conducted by the site reiterated the voting community's enthusiasm for Red Apple Reading, giving kudos for the program's structure, animation, and accessibility.
"As a parent," the report noted, "it's easy to create and edit child accounts, adjust settings for how often you want to receive Progress Report emails, download the User Guide, and [access] free resources."
While the Red Apple Reading team is elated at the latest nod of recognition from the homeschooling community, Bennecke notes that feedback and anecdotes from this educational niche have been a driving force behind Red Apple Reading development for a long time-- and the attention to users who see the living room as the classroom has earned Red Apple Reading nods from other online voices in the homeschooling community.
"It's the Simple Things," a blog published homeschooling mother of four children, raved about Red Apple Reading in a recent product spotlight in late October.
"This program is so fun because it's not the same thing day after day," the review said. "There are hundreds of videos and games to watch and play and your children can choose what to play."
Now, Bennecke plans to allow Red Apple Reading to build on the praise and feedback from the homeschooling community to help make Red Apple Reading a robust offering for all users- whether in a formal classroom or a home environment.
To read more about the Homeschool.com award, visit Red Apple Reading's Press & Awards page or the Homeschool.com review. For more information on the review by "It's the Simple Things," visit the blog's feature here.
About Red Apple Reading:
Red Apple Reading was founded in 2011 by educator Tammy Bennecke. With the aim of fulfilling their motto of being "a small company with a big heart," Red Apple Reading is in the process of developing a full range of pre-kindergarten through third grade reading products. Red Apple Reading also plans to expand into other subject areas as the company's growth continues. Find out more about Red Apple Reading at http://www.RedAppleReading.com.