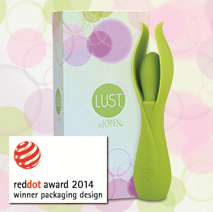 We're thrilled! It's such an honor to receive the prestigious Red Dot Award. The LUST packaging is absolutely gorgeous and we're all very proud of this amazing recognition.
Los Angeles, CA (PRWEB) August 19, 2014
JOPEN, the global name in luxury pleasure products, is a winner of the coveted Red Dot Communication Design 2014 Award. The honor highlights the company's superior packaging for the LUST Collection. Red Dot is one of the largest and most respected design competitions. This year, the international jury selected 584 outstanding entries for creative achievements out of 7,096 total entries.
Susan Colvin, President and CEO of JOPEN, says, "We're thrilled! It's such an honor to receive the prestigious Red Dot Award. The LUST packaging is absolutely gorgeous and we're all very proud of this amazing recognition."
Innovative designs, premium silicone and state-of-the-art features make LUST by JOPEN one of the world's most popular luxury pleasure product collections. Desiree Duffie, Director of Public Relations for JOPEN, describes LUST's attributes. "The beautifully-styled packaging doubles as a keepsake box with an easy-snap a magnetic closure. The product nestles in a form-fitted foam insert. Snuggly held in place, the product and the included USB charging cord are like a treasure being revealed. Outside, the bright, flirty bubbles compliment the whimsical design of the product. Minimalistic copy artfully conveys the selling features of each LUST by JOPEN item."
"By constantly adjusting our categories to the changing requirements of the market, our competition is always at the cutting edge. In more than 20 years, Red Dot has succeeded in creating a global platform where communication designers from all over the world can measure themselves against each other. In 2014, more participants than ever before showed their courage in having their creative projects judged by unbiased international experts. Winning a Red Dot gives the winners unparalleled visibility in all types of media," says Professor Dr. Peter Zec, Founder and CEO of Red Dot, about this year's competition.
The winners will be celebrated at the official awards ceremony on October 24, 2014 in the Konzerthaus in Berlin. Afterwards the E-Werk in Berlin will serve as the venue for the Designers' Night, a fantastic party during which the winners' exhibition Design on Stage will be launched.
To discover LUST, and other collections by JOPEN, visit http://www.JOPEN.com.
About the Red Dot Design Award
The Red Dot Design Award is one of the world's largest design competitions. What is now Design Zentrum Nordrhein Westfalen, started honoring excellent design as far back as 1954. The sought-after Red Dot established itself as an internationally recognised seal of quality and is awarded in the disciplines of Product Design, Design Concept and Communication Design. Visit their press page for more information.
About JOPEN, LLC
JOPEN is a global luxury pleasure product company with a business model focused on form and function. An expert team of women drives the creation of JOPEN's best-selling collections: EGO, ENVY, Essence, Intensity, KEY, LUST and Vanity. JOPEN understands the luxury market and fashions JOPEN products with the features that women and men want. JOPEN has licensed, authorized distributors, which guarantee efficient, accurate, rapid delivery so retailers always have available stock. JOPEN provides pleasure with outstanding customer service, one of the best warranty programs in existence, and products that are designed to please. Visit http://www.JOPEN.com. Encounter the new standard in luxury pleasure products.