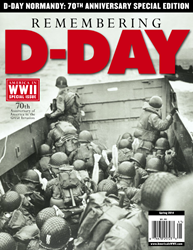 D-Day was electric with tension and human drama, and success was by no means a sure thing.
Harrisburg, Pennsylvania (PRWEB) April 10, 2014
On June 6, 1944, a million and a half fighting men from America, Great Britain, Canada, and several other Allied nations were pointed at a single target: the coastline of France's Normandy region. It was D-Day, the start of the Allied liberation of Europe from Nazi German domination. By the day's end, the invasion's spearhead would irrevocably turn the tide of World War II against Adolf Hitler's Nazi Third Reich.
This June 6 is the 70th anniversary of that historic day. To mark the occasion and to share the story of the great invasion with a new generation, AMERICA IN WWII magazine has published REMEMBERING D-DAY, a 100-page special issue now on bookstore newsstands nationwide.
"D-Day was electric with tension and human drama," says AMERICA IN WWII publisher Jim Kushlan, "and success was by no means a sure thing."
In his introduction to REMEMBERING D-DAY, Kushlan points out that General Dwight Eisenhower, the supreme commander of the Allied Expeditionary Force, was terrifyingly aware of that uncertainty.
"Part of him…could imagine an amphibious assault gone horribly wrong…," writes Kushlan. "History's mightiest invasion would wash up on a French beach like driftwood, along with the hopes of the free world and the bodies of countless sons, brothers, husbands, and fathers."
Eisenhower even scrawled a hasty note accepting responsibility for catastrophe, to be delivered in the worst-case scenario. "Fortunately for all of us," writes Kushlan, "Eisenhower never had to send that note."
REMEMBERING D-DAY chronicles Operation Overlord—Eisenhower's carefully orchestrated Normandy Invasion, including Operation Neptune, the amphibious landings—from the planning phase all the way to the establishment of a firm foothold in France, and preparations to push inland.
Featuring a central narrative by author Eric Ethier of Attleboro, Massachusetts, the issue is packed with astonishing historical photos taken by military and press photographers as the invasion unfolded, and actual D-Day artifacts.
Candid first-person accounts of the fighting on June 6, 1944, come from seven D-Day participants. One is the late Arthur "Dutch" Schultz, an 82nd Airborne Division paratrooper portrayed in Cornelius Ryan's 1959 classic book THE LONGEST DAY and the 1962 film of the same name. He dropped behind German lines before sunrise, lost and terrified.
"I kept moving around the hedgerows," Schultz recounted. "I had no idea where I was going. I recall how frightened I was and how totally unprepared I was to be by myself."
In an additional first-person account from the US World War II home front, a woman from Bedford, Virginia—which lost more men per capita on D-Day than any other American town—describes how she learned that her two brothers had been killed on the invasion's Omaha Beach.
"The news that everyone in town had been expecting, had been dreading, was finally here," recalls Lucille Hoback Boggess of Bedford. "It was here—in our house. Our house. We were stunned."
Side stories—12 in all, plus a landing craft ID chart and a full-spread invasion map—appear throughout REMEMBERING D-DAY. Topics include the August 1942 Dieppe Raid (a failed experimental invasion of Nazi-held France), Allied deception tactics to fool the Germans, the customized war machines known as "Hobart's Funnies," aerial bombing and strafing, predawn parachute and glider landings, Higgins boats, waterproofing of vehicles and weapons, navy beach battalions that directed the invasion's traffic, navy destroyers that supported the beach combat, non-US Allied forces on D-Day, the US 2nd Ranger Battalion's seizure of Pointe du Hoc, and Lieutenant Dick Winters on D-Day.
Other coverage in REMEMBERING D-DAY includes a reflection on the 1962 D-Day film classic THE LONGEST DAY, and a travel article on visiting Normandy's historic D-Day sites today.
Priced at $9.99, REMEMBERING D-DAY is available directly from the publisher at http://www.AmericaInWWII.com, 717-564-0161, or by mail at AMERICA IN WWII, 4711 Queen Avenue, Suite 202, Harrisburg, PA 17109. The issue is also on sale at Barnes & Noble and select other bookstore newsstands across the United States. Digital editions for handheld devices, Mac, and PC are also available; check your device's newsstand or app store, or visit http://www.AmericaInWWII.com/subscriptions for links.
AMERICA IN WWII, now in its 10th year, is a bimonthly magazine about the American experience in the Second World War—the war, the home front, and the people. It is available at Barnes & Noble and Books A Million stores, and select other bookstores.
AMERICA IN WWII and AmericaInWWII.com are publications of 310 Publishing LLC of Harrisburg, Pennsylvania, a company committed to telling the stories of history in human terms.