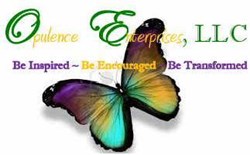 The butterfly is symbolic of a complete transformation. Our services transform clients from where they are to fulfilling their purpose-LeTonya F. Moore
Conyers, GA (PRWEB) January 09, 2014
Opulence Enterprises, LLC celebrates the Grand Opening of Opulence Enterprises Atlanta with the Rockdale-Conyers Chamber of Commerce and the Greater Rockdale Community, January 22, 2014, 9:00am-11:00am. "Opulence is proud to be a member of the Rockdale-Conyers Chamber of Commerce and a part of the explosive growth in the East Atlanta, Conyers, GA area," says, LeTonya F. Moore, Founder of Opulence Enterprises, LLC. The ceremony will feature Continental Breakfast and Networking; A short presentation on Opulence's business services and social justice initiatives; and culminates with a Formal Ribbon Cutting Ceremony conducted by Chamber Officials.
The Atlanta office houses the Employment and Entrepreneurial Division (EED); Equality and Social Justice Division (ESJ) and the Entertainment Division (ED). Our EED services include career and skills based assessments, job matching services and training, and career coaching. For business, Opulence provides growth and development strategies, infrastructure building, digital marketing and promotion services, IT solutions, and much more. Our ESJ Division focuses on advocacy for under-served populations, namely meaningful reintegration of ex-offenders, male and female domestic violence victims, and closing other inequitable divides.
This event is open to the public. RSVP by January 15, 2014 is required. For more information, please email or call our office.
###
About Opulence Enterprises, LLC: Opulence Enterprises, LLC provides business coaching, consulting, and representational services to individuals, businesses, and organizations. Opulence Enterprises Tampa office is the Motivational and Empowerment arm of Opulence Enterprises, LLC. Opulence was founded in 2007, by Attorney LeTonya F. Moore who presently serves as both CEO and Chief Counsel. For more information about Opulence, visit our website or call 888-973-3015.