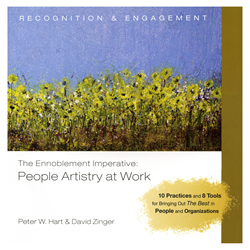 New York, NY (PRWEB) March 14, 2014
Rideau Recognition Solutions Chief Executive Officer Peter W. Hart and author David Zinger, a globally recognized expert on the subject of worker engagement, have teamed up to write "The Ennoblement Imperative: People Artistry at Work." Copies are available here: http://www.PeopleArtistry.com
Hart and Zinger offer readers 10 principles and 8 tools for helping managers who've been stuck in the spreadsheets to become People Artists who engage workers fully, granting them the attention they deserve yet which has become rare in a world governed by checklists and multi-tasking. (Reports say anywhere from 30% to 70% of the global workforce is disengaged on the job.)
For example, Hart and Zinger suggest that managers stop and take time to talk with colleagues during the daily flow of work. A simple ten-second pause to notice mood and body language can make every conversation more productive, and in turn, increase the odds of rooting out problems before they become systemic.
Other tips include:
●Don't pay attention, gift attention. Distracted conversations rarely add value. Rather than make an employee "pay" for your time by not giving your full attention, engage, notice, and if necessary, document for further review.
●See what is, what isn't, and what could be. Artists help us see the world differently. People Artists take notice of the negative influences shaping a worker's experience and suggest ways to tap into unrealized potential.
●Continually learn from your work and steal like an artist. Study those with a history of successfully engaging workers. Test their methods in your own organization and then add to your canvas as appropriate.
"Leaders are not always the people in charge. Engaged leaders are the people who take charge by charging people up," said Zinger, who also hosts the Employee Engagement Network.
"People Artistry isn't an innate gift granted to the chosen few. Rather, it is a practice we can all develop with the principles and tools we've documented. If only more CEOs would take a break from the financial statements to see the potential beauty before them," Hart, whose paintings adorn the book, said.
Press interested in review copies of "The Ennoblement Imperative: People Artistry at Work" should email Lisa Legault at Rideau: LisaLegault(at)rideau(dot)com. Or find more information at http://www.PeopleArtistry.com.
About David Zinger
David Zinger is a world expert on engagement. He is a sought after author, educator, coach, and consultant focused intently on employee engagement. He has worked on engagement in Canada, the United States, Poland, Wales, Germany, England, India, Spain, and South Africa. His other books include "Assorted Zingers" and "Zengage". David's personal artistry included 3 summers engaged with honeybees to learn lessons about engagement, work, organization, and community. He concluded that project with the eBook, "Wiggle: 39 Ways to Improve Human Organizations, Work, and Engagement." David recently developed a 12-module course, based on the pyramid of engagement, to help people engage more fully with their work, their organizations, and each other. Visit David at http://www.davidzinger.com.
About Rideau Recognition Solutions
Rideau provides market-leading recognition and rewards solutions and cloud computing technologies to Global 2000 employers worldwide to boost revenues, manage employer costs, increase employee performance and exceed customer expectations. Privately held with headquarters in Montreal and offices in New York City, Paris and Bangalore, Rideau celebrates its 100th anniversary in 2012. Rideau is named after Rideau Hall; the capital city residence of Canada's Governor General since 1867 and Canada's equivalent to America's White House. Find more information about the company at http://www.rideau.com. Peter is also an avid painter and you can visit his gallery in Old Montreal or visit online at http://www.PETERwHART.com.