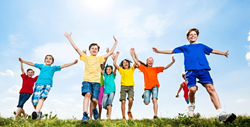 "Instead of promoting candy and fast food to kids we are teaching them about the benefits of exercise and good nutrition throughout the fundraising campaign."
New York, New York (PRWEB) March 19, 2014
MyFunRun is a new school fundraiser that will raise more money than typical fundraisers, while conveying a healthy message at the same time. Known as a fun run in a box, it contains everything needed for a fun run including a website, personal fundraising pages for each participant, a step by step guide and all the materials required for a successful fundraiser.
According to company president Rob Hirscheimer, "MyFunRun was designed to allow schools to raise much more money than typical product fundraisers. The school retains more than 75% of the revenue compared to only 50% they receive from chocolate bars, cookies, fast food restaurants and other product fundraisers".
More importantly, MyFunRun conveys a healthy message to kids. Mark Goldenberg the co-founder and vice president says, "Instead of promoting candy and fast food to kids, we are teaching them about the benefits of exercise and good nutrition throughout the fundraising campaign."
According to the Centers For Disease Control and Prevention, childhood obesity has more than doubled in children and quadrupled in adolescents in the past 30 years. Recently, government agencies have been putting pressure on schools to have healthy fundraisers so they do not give kids mixed messages. MyFunRun was created to give schools an easy, healthy fundraiser that would comply with these recommendations and raise more money at the same time.
During the 3 week fundraising campaign, each participant receives their own fundraising page which they can share with friends and family around the world. Donations are made online by credit card or in person by cash or check. On the day of the event, kids participate in a healthy activity such as a walk or run.
Everything is managed through a custom website MyFunRun creates for each school.
The website has a leader board, a built in rewards program, a corporate sponsorship program, an online auction, and an online raffle. The pre-populated auction has no cost items such as "be the principal for a day", "dunk a teacher", "the best parking spot for a week" and other fun ideas. Other items can also be added to the online auction.
Fun runs have been recognized as the number one healthy fundraiser by the Center For Science in the Public Interest. Most schools have been reluctant to do a fun run because they are not sure where to start and they do not know how to collect money online. MyFunRun has eliminated all the guesswork by providing a step by step guide, all the materials and an online platform to collect and manage all the money that is raised.
Now PTOs PTAs and Booster Clubs have an easy solution for their fun run fundraiser because everything is taken care of, including a dedicated coach who is there to help from the beginning to end of the campaign. To learn more about MyFunRun check out this 60 second video and try out the MyFunRun calculator to see how much more money you can raise.
MyFunRun is a division of MyEvent.com, a company that has provided more than 100,000 websites to individuals, non profits and businesses since 2002. MyEvent has built-in features to help plan any event, sell tickets and accept donations online with MyEvent's integrated payment platform.