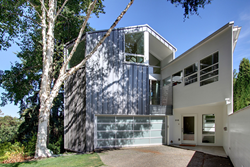 Seattle, WA (PRWEB) March 20, 2014
During this weekend's Seattle Modern Home Tour, attendees will have the opportunity to explore six modern homes in the Seattle area that exemplify modern architecture and living. Throughout the day, tourgoers will get the inside scoop from homeowners on what it's like to live in a modern home, and talk to the architects to find out where they got their inspiration. This is every Seattle resident's chance to check out 'that cool house you always drive by…'
Continuing a solid partnership, the Seattle Architecture Foundation has been named the tour's local non-profit beneficiary for the third year in a row. They will help staff the event, in return for a small donation and the opportunity to use the tour as a fundraising vehicle.
These six homes have been accepted and confirmed for the 2014 Seattle Modern Home Tour.
1) A gorgeous home in Leschi Park, originally built in the '80s, and recently renovated by Robert Hutchison to remain faithful to the original geometry, but showcase a new vocabulary of architecture.
2) In Maple Leaf, see the inside and out of local notable architect James Chiarelli's personal residence, built between 1948 and 1950, but renovated by the current owners to update the interior while honoring the original design. The home is a bridge between classic mid-century modern and today's design; it is listed in the National Register of Historic Places, Washington Heritage Register, and as a City of Seattle Landmark.
3) The awe-inspiring Magnolia-neighborhood penthouse apartment in a complex designed by Eric Cobb that features engaging expansive rooftop terraces for outside living with views of Elliott Bay and Mount Rainier.
4) A second home by Eric Cobb, stretching across the full southern end of the Madison Park block, that features amazing open light-filled spaces and impressive-but-carefully-controlled outdoor decks and terraces. This home was a highlight of the 2012 tour and is ready to amaze a whole new set of visitors.
5) A very impressive one-story mid-century home in West Seattle, designed by Richard Bonner, that features fantastic open spaces, a huge kosher kitchen, and an angled wall to match the direction of nearby Fauntleroy Way.
(6) A last minute addition in Issaquah, the gorgeous Rogue House is a brand new 4-Star Built green home designed by the Stephenson Design Collective and built by Noble Ridge Construction, Inc., as part of their signature series of higher quality modern homes.
Participating homes in the 2014 Seattle Modern Home Tour will open their doors for viewing from 11AM – 5PM on Saturday, March 22nd, in the Seattle, Washington area. All are invited to attend. Kids under 12 are FREE (when accompanying their parents). Tickets for each tour are $30 in advance online.
Modern Home Tours is offering a special discount for the back-to-back Seattle (March 22) and Portland (March 29) Modern Home Tours. When a ticket is purchased for either tour, a ticket for the other tour will be available for just $10 more. For more details on the Seattle Modern Home Tour and how to buy tickets, visit http://modernhometours.com/event/seattle.
About Modern Home Tours, LLC: Based in Austin, Texas, Modern Home Tours, LLC was founded by partners Matt Swinney & James Leasure in 2010 to introduce modern architecture and living to people across the nation. Through fun and informative tours in dozens of cities across the USA and Canada, the group invites people into some of the most exciting examples of modern architecture and design in the nation. With carefully selected architects, neighborhoods and architecture, the Modern Home Tours are unlike anything you've ever seen. Not only will you learn about the cutting edge of home design while on our tours, but you might even get an idea or two for your next home project!