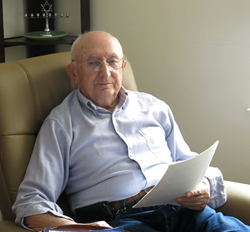 I spent six years cutting lumber by hand and later studied automobile engineering in Russia, which was helpful to me when I cam to the States.
Whippany, N.J. (PRWEB) May 14, 2014
Holocaust survivor Solomon Spierer speaks six languages and has lived in five countries in his lifetime, having endured the travails of World War II as a youth in Poland. The resident of the Lester Senior Housing Community in Whippany, N.J. looks back on his life as one of determination and tenacity—characteristics that ferried him from Poland to Siberia to Germany and Austria and finally to America. He has written his memoir, titled "Shloimi's Life Story," which chronicles his personal events from his birth in 1923 to 1949, when he came to the United States to start his new life. He plans to self-publish the book.
Spierer's family endured upheaval and tragedy in the years leading up to and throughout World War II. His father, identified as a bourgeoisie Zionist, was jailed by the Russians in 1938 and the family never saw him again. Spierer, his mother and sister were deported to a Siberian work camp for the duration of the war.
"I spent six years cutting lumber by hand and later studied automobile engineering in Russia, which was helpful to me when I came to the States," said Spierer. After the war he planned to return to his town in Poland which by then was in Ukraine; he and his family went instead to the German town of Shtetin, which the Poles had taken during the war.
With Eastern Europe's shifting borders and wartime occupations, residents commonly spoke several languages, of their countries, homes, and of local commerce. Spierer was no exception. By the end of the war, he spoke fluent Polish, Yiddish, German, Hebrew, and Russian and a smattering of Ukrainian.
"Polish was our native language, and my mother spoke German which we used in the home; the school my father sent us to taught entirely in Hebrew; and because we were in an area that bordered and later became part of Ukraine, Ukrainian was commonly used in local stores, including the one my parents had owned," Spierer explained. "I learned Russian during the occupation as well."
The Post-War Years
In Germany, he tried to get a job as an auto mechanic but was turned away because he was Jewish. Unable to enter then-Palestine or the United States where relatives were living, the Spierers went to Austria. The job he found there was perverse, given his background.
"I was hired to dismantle an oven that had been used in a concentration camp to burn Jews, and rebuild it for a bread bakery," he explained.
Immediately after the war, the family was separated and lived in different displaced persons camps. They eventually reunited and made plans to leave Europe. Spierer's aunt and uncle in America eventually responded to letters and with jobs for Jews scarce in Europe, Spierer came to the States alone in 1949.
The new immigrant spoke no English but his multi-lingual and mechanical abilities served him well in America's melting pot. An ad in a German newspaper from a Dutch company about a mechanic's job caught his eye. He interviewed for the position in German and got the job, until the employer discovered his Jewish heritage. He eventually found employment at a Jewish-owned gas station and his professional life in America was started.
Many car repairs later, Spierer bought his own gas station and mechanic shop which he sold after two years. He married and bought a Hallmark card store out in Stony Brook, Long Island, where he and his wife Rosalie raised their family. "I wanted something I could develop for myself, without the smell and grime of the car grease," he noted. Because his parents had owned a store in Poland, Spierer understood the basics of retail and how to deal with customers, and enjoyed success as a merchant.
Eventually the long hours of the retail business wore on him, and the Spierers retired to Florida for 20 years. With their family up here, however, they moved to the Lester Senior Housing Community in November 2013 to be near their sons and grandchildren, who live in West Orange. The senior living community is one of four that are owned and managed by the Jewish Community Housing Corporation of Metropolitan New Jersey.
Today, Spierer enjoys the community's discussion groups and he and Rosalie attend the movies there. He works on his computer, the one on which he wrote his memoir, and they both enjoy computer games. His wife has found a companion to play Scrabble with and Spierer added that, "Right now I'm looking for a good poker game."
The Lester Senior Housing Community is located at 903-905 Route 10 East on the Alex Aidekman Family Jewish Community Campus. The senior residence offers a range of living options, upscale amenities, and social, educational, and cultural programs for seniors in a traditional Jewish environment. For more information call (973) 929-2725 or visit http://www.jchcorp.org.
About the Jewish Community Housing Corporation of Metropolitan New Jersey
Founded in 1983, the Jewish Community Housing Corporation of Metropolitan New Jersey (JCHC) owns and manages more than 470 apartments in four buildings for older adults in Morris and Essex counties in northern New Jersey. The non-profit organization offers seniors a range of options in terms of services, amenities, location, and cost, all within a traditional Jewish environment. The JCHC provides housing, programs, and services for the independent elderly as well as those who need assisted living. For more information, go to http://www.jchcorp.org.