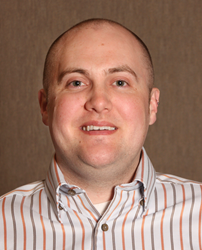 Palmyra, Wis. (PRWEB) June 19, 2014
As Standard Process Inc. celebrates 85 years in business, the company continues to expand its staff. Recent new hires include: Fred Hunt; Daniel Krause; Sarah Moore, D.C.; Courtney Nelson; and Jerry Strojny. They join the company's engineering, health and wellness, information technologies, and marketing departments.
Hunt joins the Standard Process information technologies department as a network administrator. He is responsible for planning and implementing hardware and software releases, as well as assisting in developing strategic plans for continual network infrastructure improvement. Hunt earned a bachelor's degree from the University of Wisconsin-Madison in 2005 and a Cisco Certified Network Associate certificate from Madison College in 2013.
Krause and Moore are the newest members of the Standard Process health and wellness team. A 2013 graduate of the University of Wisconsin-Whitewater, Krause joins the company as a wellness program coordinator responsible for planning and executing employee programming as part of Standard Process' award-winning health and wellness program. Chiropractor Moore is on-site at Standard Process full-time helping employees in the company's on-site wellness center. She graduated from National University of Health Sciences in Lombard, Illinois in 2011.
Graphic designer Nelson joins the company's creative team within the marketing department. She plays an essential role in creating marketing collateral that reflects the company's unique brand. Nelson, a 2006 graduate of Iowa State University, holds a Bachelor of Fine Arts degree.
As a mechanical design engineer Strojny joins the company's engineering department. In his position, Strojny, a 1994 graduate of the Milwaukee School of Engineering, is coordinating engineering projects to improve manufacturing efficiency and product quality at the company's 286,000 square foot plant and corporate headquarters.
###
About Standard Process Inc.
For 85 years, Standard Process has been dedicated to the field of nutritional supplements and the whole food philosophy introduced by its founder, Dr. Royal Lee. Standard Process, headquartered in Palmyra, Wis., offers more than 300 high-quality supplements with whole food ingredients through three product lines: Standard Process whole food supplements, Standard Process Veterinary Formulas and MediHerb herbal supplements. The products are available only through health care professionals.
To ensure its supplements are of the utmost quality, Standard Process grows the majority of its ingredients on company-owned, organically certified farmland. To retain vital nutrients within each ingredient, the company uses exclusive manufacturing processes and employs high quality control standards, including adhering to the Food and Drug Administration's good manufacturing practice requirements.
In 2014, Standard Process launched Cultivate by Standard Process, a new business which provides corporate wellness offerings to other companies. Cultivate works to assess and then deliver scalable wellness solutions to impact individual employees and the overall company using onsite chiropractic as a central component of the program.
Standard Process has been named a Top Workplace in Southeastern Wisconsin multiple times and is a member of the Inc. 5000 Honor Roll. For additional information about Standard Process, visit standardprocess.com.