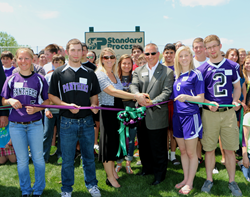 This started quite a few years ago because we wanted to do something at a whole different level for this community.
Palmyra, WI (PRWEB) May 23, 2014
Members of the greater Palmyra-Eagle community joined school district officials and students, state and local government dignitaries, including state Rep. Stephen Nass, and the president of Standard Process Inc. for the ribbon-cutting ceremony of the Standard Process Athletic Complex on May 21, 2014. The $1.2 million complex, located south of the Palmyra-Eagle High School, offers a baseball field, a softball field, six soccer fields, a multi-purpose practice field for football and soccer, and a new concession stand. The new complex benefits the Palmyra-Eagle school district students, community park and recreation programs, as well as the greater Palmyra-Eagle community.
"Standard Process' commitment to wellness is well known," said Glenn Schlender, superintendent of the Palmyra-Eagle Area School District. "And that commitment is certainly evident in the creation of this athletic complex."
Ground was broken on the Standard Process Athletic Complex in September 2013 after Standard Process, the school district, and the park and recreation departments of Palmyra and Eagle began their mission to provide the community with a new sports facility nearly two years ago. Standard Process financed the $1.2 million project.
"This started quite a few years ago because we wanted to do something at a whole different level for this community," said Charlie DuBois, Standard Process president. "I think you have to eat well, you have to move well and you have to think well. I hope the young people of this community will take that to heart, and this will be part of a grand vision to have a healthier, happier life."
"This complex will help to fill a void within the community," said Palmyra Village Board President Dave Turner who attended the event and looks forward to the impact the athletic complex will have on the community. "It will allow our schools and recreation departments to host more and larger tournaments and expose our community favorably to many other communities when they come to play here."
Nass echoed Turner's sentiments of the value of the athletic complex. "It helps the community today, but it will help for many years to come," Nass said. "And I really congratulate you on the cooperation that exists between Standard Process, the school district and the community."
Palmyra-Eagle High School student athletes, Brooke Balk and Nate Behr, and school district parent, Christine Mason, also said a few words about the new complex. In addition to being a school district parent, Mason is the farm manager for Standard Process' certified organic farm and was the project's liaison between the school district and the whole food supplement manufacturer.
"The latest data figures we have available show that between the Palmyra and Eagle communities we have very high athletic participation numbers," said Mason. "These numbers indicate that this new athletic facility will help over 1,100 student athletes."
Mason, Schlender and the students in attendance then gathered around DuBois and Mary Wisniewski, vice president of Standard Process, to cut the ribbon. Following the ceremony, event attendees socialized while enjoying healthy snacks and refreshments.
The Standard Process Athletic Complex is expected to be ready for full use by the start of the 2014-2015 school season.
###
About Standard Process Inc.®
For 85 years, Standard Process has been dedicated to the field of nutritional supplements and the whole food philosophy introduced by its founder, Dr. Royal Lee. Standard Process, headquartered in Palmyra, Wis., offers more than 300 high-quality supplements with whole food ingredients through three product lines: Standard Process whole food supplements, Standard Process Veterinary Formulas and MediHerb herbal supplements. The products are available only through health care professionals.
To ensure its supplements are of the utmost quality, Standard Process grows the majority of its ingredients on company-owned, organically certified farmland. To retain vital nutrients within each ingredient, the company uses exclusive manufacturing processes and employs high quality control standards, including adhering to the Food and Drug Administration's good manufacturing practice requirements.
In 2014, Standard Process launched Cultivate by Standard Process, a new business which provides corporate wellness offerings to other companies. Cultivate works to assess and then deliver scalable wellness solutions to impact individual employees and the overall company using onsite chiropractic as a central component of the program.
Standard Process has been named a Top Workplace in Southeastern Wisconsin multiple times and is a member of the Inc. 5000 Honor Roll. For additional information about Standard Process, visit standardprocess.com.