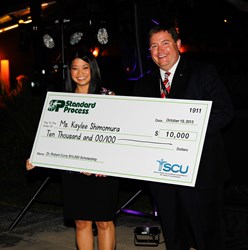 Standard Process is committed to supporting students who have an interest in implementing nutrition into their future practices.
Palmyra, WI (PRWEB) January 07, 2014
Southern California University of Health Sciences (SCU) student Kaylee Shimomura is the 2013 recipient of the Dr. Robert Curry Scholarship. Standard Process Inc., offers the $10,000 scholarship to inspire students at the university to study whole food nutrition while pursuing a degree in integrative health care.
Shimomura, an eighth trimester student at SCU studying chiropractic, is the third student to earn the scholarship. She plans to practice in her hometown of Kula, Hawaii, applying the fundamentals of good health, nutrition and chiropractic care learned at SCU to change her community's view on diet, exercise and overall health.
Whole food supplement manufacturer Standard Process committed to the SCU scholarship program in 2010 following the retirement of Southern California distributor, chiropractor Robert Curry, who was an SCU alumnus. Throughout his career, Curry supported and educated fellow Southern California health care professionals as they learned about the role whole food nutrition plays in a healthy lifestyle.
"Standard Process is committed to supporting students who have an interest in implementing nutrition into their future practices," said John Nab, D.C., director of professional development at Standard Process. "By learning how nutrition affects health outcomes they can support their patients' total well-being."
The Dr. Robert Curry Scholarship program provides $10,000 to a SCU student. To be considered for the scholarship, applicants must:

Have a cumulative grade point average of 2.9 or higher
Provide a list of their contributions to the profession, SCU and the community
Provide a letter of recommendation from an SCU professor
Submit a 500-750 word essay on how they will work to improve the health of their patients and the community where they establish a practice
This year, the scholarship was presented to Shimomura during the university's Extravaganza VIP Reception held on Oct. 19, 2013.
If you are interested in learning more about this program and other scholarship programs offered by Standard Process contact Lisa Hackett at 800-848-5061 or by email at lhackett (at) standardprocess (dot) com .
---
About Standard Process Inc.
For 85 years, Standard Process has been dedicated to the field of nutritional supplements and the whole food philosophy introduced by its founder, Dr. Royal Lee. Standard Process, headquartered in Palmyra, Wis., offers more than 300 high-quality supplements with whole food ingredients through three product lines: Standard Process whole food supplements, Standard Process Veterinary Formulas and MediHerb herbal supplements. The products are available only through health care professionals.
To ensure its supplements are of the utmost quality, Standard Process grows the majority of its ingredients on company-owned, organically certified farmland. To retain vital nutrients within each ingredient, the company uses exclusive manufacturing processes and employs high quality control standards, including adhering to the Food and Drug Administration's good manufacturing practice requirements.
Standard Process has been named a Top Workplace in Southeastern Wisconsin multiple times and is a member of the Inc. 5000 Honor Roll. For additional information about Standard Process, visit standardprocess.com.