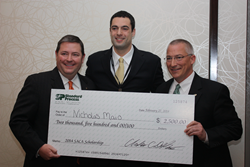 Each winner's video essay allowed us to see how they value nutrition as part of their education in a unique way.
Palmyra, WI (PRWEB) March 19, 2014
At the National Chiropractic Legislative Conference (NCLC), held February 26-March 2, 2014 in Washington, D.C., Standard Process Inc. awarded $2,500 scholarships to four Student American Chiropractors Association (SACA) members. In a new twist for the scholarship program, students were asked to submit a video essay opposed to a written essay. Videos were judged based how well applicants articulated their passion for nutrition and how it relates to chiropractic care, as well as their creativity.
Of the videos submitted, eight were selected by Standard Process' professional development department. The selected entries were then posted to the Standard Process YouTube channel where they were publicly voted on and gathered over 5,000 views resulting in the four winners being named.
Three recipients of the scholarship currently attend New York College of Chiropractic in Seneca Falls, N.Y.: Brittany Elmlinger, third trimester; Nicholas Maio, seventh trimester; and Brendan McCann, fifth trimester. The fourth recipient Anthony N. Memmo is a fifth trimester student attending Logan University in Chesterfield, MO. Maio was a second-time recipient of the scholarship, having been named a recipient at the 2013 NCLC in addition to this year.
This marks the sixth consecutive year the scholarships have been awarded, as the company continues its efforts to contribute to the future of chiropractic. The scholarships were presented by John Nab, D.C., director of professional development of Standard Process, during the conference. "We are committed to the education of chiropractic professionals and the role nutrition plays in it," said Nab. "Each winner's video essay allowed us to see how they value nutrition as part of their education in a unique way."
SACA members in good academic standing and able to attend the 2014 NCLC were eligible to apply for the scholarships. In addition to the video submission, applicants provided a list of their contributions to the chiropractic profession and current GPA.
If you are interested in learning more about this scholarship program and others offered by Standard Process contact professional development coordinator, Lisa Hackett, at 800-848-5061, or by email at lhackett(at)standardprocess(dot)com.
###
About Standard Process Inc.
For 85 years, Standard Process has been dedicated to the field of nutritional supplements and the whole food philosophy introduced by its founder, Dr. Royal Lee. Standard Process, headquartered in Palmyra, Wis., offers more than 300 high-quality supplements with whole food ingredients through three product lines: Standard Process whole food supplements, Standard Process Veterinary Formulas and MediHerb herbal supplements. The products are available only through health care professionals.
To ensure its supplements are of the utmost quality, Standard Process grows the majority of its ingredients on company-owned, organically certified farmland. To retain vital nutrients within each ingredient, the company uses exclusive manufacturing processes and employs high quality control standards, including adhering to the Food and Drug Administration's good manufacturing practice requirements.
In 2014, Standard Process launched Cultivate by Standard Process, a new business which provides corporate wellness offerings to other companies. Cultivate works to assess and then deliver scalable wellness solutions to impact individual employees and the overall company using onsite chiropractic as a central component of the program.
Standard Process has been named a Top Workplace in Southeastern Wisconsin multiple times and is a member of the Inc. 5000 Honor Roll. For additional information about Standard Process, visit standardprocess.com.