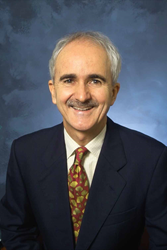 The landscape of herbal medicine is evolving every day.
Palmyra, WI (PRWEB) March 24, 2014
For the second time in 10 years, renowned herbalists Kerry Bone and Simon Mills have earned the American Botanical Council's (ABC) James A. Duke Excellence in Botanical Literature Award. The 2013 honor was given to Bone and Mills for their work on the second edition of "Principles and Practice of Phytotherapy: Modern Herbal Medicine" (Churchill Livingstone, 2013), an herbal medicine clinical practice guide used by natural medicine practitioners throughout the world.
"The landscape of herbal medicine is evolving every day," said Bone, co-founder and director of research and development for Australian herbal supplement manufacturer MediHerb. "With so much information now available, we needed to carefully review everything for its relevance to the clinical practitioner."
In 2005, ABC established the James A. Duke Excellence in Botanical Literature Award to recognize books that provide significant contributions to literature in the fields of botany, taxonomy, ethnobotany, phytomedicine, and other disciplines related to the field of medicinal plants. First to receive the award were colleagues Bone and Mills for their book, "The Essential Guide to Herbal Safety" (Churchill Livingstone, 2005), which offered authoritative information and guidance on the safe use of herbs for all practitioners looking to integrate herbs into their practice.
The second edition of "Principles and Practice of Phytotherapy," published in 2013, offers practitioners extensively updated and relevant clinical data regarding the use of herbal remedies. It also provides new insight on herbal management of approximately 100 modern health conditions.
"Principles and Practice of Phytotherapy," the pair's first collaboration, was originally published in 1999. With over 40,000 copies in circulation today, it is the leading text on herbal medicine in naturopathic and herbal colleges around the world. The second edition of the book took 14 years to publish.
Standard Process Inc. has partnered with MediHerb since 2001, as the exclusive United States distributor of MediHerb herbal supplements in the United States. With a mutual commitment to product quality, a strictly monitored manufacturing process and rigorous product testing, Standard Process and MediHerb are devoted to providing new advantages to healthy living while complementing good health.
To order "Principles and Practices of Phytotherapy," "The Essential Guide to Herbal Safety," or other books from Bone, please contact the Standard Process Customer Service department at 800-558-8740.
###
About MediHerb
Australian-owned herbal supplement manufacturer MediHerb provides a wide range of herbal products in liquid extracts and tablets which meet pharmaceutical good manufacturing practice code. MediHerb's commitment to quality is evident in every aspect of the business, from the sourcing of herbs through to unique manufacturing processes that have revolutionized the herbal products industry. MediHerb has a unique research and development department with scientists who are internationally regarded as phytochemical experts, and have published numerous papers in respected peer-reviewed journals. MediHerb, co-founded in 1986 by Professor Kerry Bone, is the first choice in herbal products for health care professionals in Australia, Canada, New Zealand, South Africa, United Kingdom, and the United States. MediHerb products are sold exclusively in the United States through Standard Process Inc.
About Standard Process Inc.
For 85 years, Standard Process has been dedicated to the field of nutritional supplements and the whole food philosophy introduced by its founder, Dr. Royal Lee. Standard Process, headquartered in Palmyra, Wis., offers more than 300 high-quality supplements with whole food ingredients through three product lines: Standard Process whole food supplements, Standard Process Veterinary Formulas and MediHerb herbal supplements. The products are available only through health care professionals.
To ensure its supplements are of the utmost quality, Standard Process grows the majority of its ingredients on company-owned, organically certified farmland. To retain vital nutrients within each ingredient, the company uses exclusive manufacturing processes and employs high quality control standards, including adhering to the Food and Drug Administration's good manufacturing practice requirements.
In 2014, Standard Process launched Cultivate by Standard Process, a new business which provides corporate wellness offerings to other companies. Cultivate works to assess and then deliver scalable wellness solutions to impact individual employees and the overall company using onsite chiropractic as a central component of the program.
Standard Process has been named a Top Workplace in Southeastern Wisconsin multiple times and is a member of the Inc. 5000 Honor Roll. For additional information about Standard Process, visit standardprocess.com.