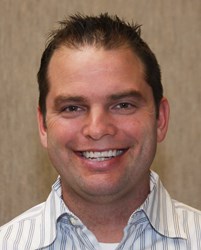 Palmyra, Wis. (PRWEB) January 15, 2014
Employee growth continues at Palmyra-based Standard Process Inc. as the company announces two new hires. The whole food supplement manufacturer welcomes Tyler Lloyd, market analyst, and Mark Thrift, training manager. With the addition of Lloyd and Thrift, Standard Process continues its record employment growth.
Lloyd, of Oconomowoc, Wis., joins the company as a market analyst. In this position he will provide advanced market analysis of the company's health care practitioner segments, including chiropractic, veterinary and acupuncture. Lloyd will also manage research projects and evaluate the effectiveness of the company's marketing programs. He graduated in 2001 from the University of Wisconsin-Oshkosh with a Bachelor of Science Degree in psychology. In addition, Lloyd earned a master's degree in 2003 from the University of Wisconsin-Milwaukee in education psychology. He transitions to Standard Process from American Family Insurance where he was previously employed as a market analytics senior specialist.
Thrift, of Franklin, Wis., is the company's new training manager. He joins Standard Process as part of the company's professional development department. In his role, Thrift will be responsible for the development and implementation of training strategies for all Standard Process employees. Thrift graduated from the University of Arkansas in 2012 with a master's degree in operations management. Prior to joining Standard Process he served in the United States Air Force as a training development and instruction section chief.
For 85 years, Standard Process has manufactured whole food supplements that provide specific, nutritional support for the body. The company grows many of its ingredients on its own certified organic farm.
For more information about career opportunities at Standard Process, please visit the Career Opportunities page at standardprocess.com.
###
About Standard Process Inc.
For 85 years, Standard Process has been dedicated to the field of nutritional supplements and the whole food philosophy introduced by its founder, Dr. Royal Lee. Standard Process, headquartered in Palmyra, Wis., offers more than 300 high-quality supplements with whole food ingredients through three product lines: Standard Process whole food supplements, Standard Process Veterinary Formulas and MediHerb herbal supplements. The products are available only through health care professionals.
To ensure its supplements are of the utmost quality, Standard Process grows the majority of its ingredients on company-owned, organically certified farmland. To retain vital nutrients within each ingredient, the company uses exclusive manufacturing processes and employs high quality control standards, including adhering to the Food and Drug Administration's good manufacturing practice requirements.
Standard Process has been named a Top Workplace in Southeastern Wisconsin multiple times and is a member of the Inc. 5000 Honor Roll. For additional information about Standard Process, visit standardprocess.com.