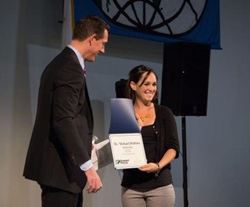 It is especially rewarding to provide this scholarship to a future health care professional who shares our passion for improving the quality of life.
(PRWEB) June 12, 2014
The 2014 Dr. Michael Dobbins Excellence in Nutritional Education Scholarship was given to Life Chiropractic College West (Life West) student Shea Lindsay during the college's annual Spring for Life event held in May. Lindsay is the fifth recipient of the $10,000 scholarship presented by whole food supplement manufacturer Standard Process Inc.
This is the first scholarship being presented after the unexpected December 2013 passing of former chiropractor, Life West alum and scholarship namesake, Michael Dobbins, of Alameda, California. In 2009, Dobbins was the first recipient of the Standard Process Excellence in Nutritional Education Award for practitioners. Selected because of his commitment to educating others for more than two decades, Dobbins was one of the most revered speakers on complementary health care and an internationally renowned lecturer in the field of nutrition and herbal therapy.
As part of the Excellence in Nutrition award program, Standard Process also provides a $100,000 scholarship program for the recipient's alma mater, awarded through the course of 10 years. In her winning essay Lindsay detailed how she embraces the Standard Process whole food philosophy and how she will incorporate it into her own "Whole Food, Whole Body, Whole YOU" philosophy.
"It is especially rewarding to provide this scholarship to a future health care professional who shares our passion for improving the quality of life," said John C. Nab, D.C., director of professional development for Standard Process. "Shea Lindsay, like Standard Process founder, Dr. Royal Lee and Life West alum, Dr. Michael Dobbins, believes in the natural nutritional potency of whole foods."
In addition to the essay requirement, scholarship applicants need to:

Have at least three quarters remaining before graduation
Have a cumulative grade point average of 2.9 or higher
Provide a list of their contributions to the profession, the college, and the community
Provide a letter of recommendation from a Life West professor
For more information on scholarship programs available from Standard Process, contact Lisa Hackett, professional development coordinator, at (800) 848-5061.
###
About Standard Process Inc.
For 85 years, Standard Process has been dedicated to the field of nutritional supplements and the whole food philosophy introduced by its founder, Dr. Royal Lee. Standard Process, headquartered in Palmyra, Wis., offers more than 300 high-quality supplements with whole food ingredients through three product lines: Standard Process whole food supplements, Standard Process Veterinary Formulas and MediHerb herbal supplements. The products are available only through health care professionals.
To ensure its supplements are of the utmost quality, Standard Process grows the majority of its ingredients on company-owned, organically certified farmland. To retain vital nutrients within each ingredient, the company uses exclusive manufacturing processes and employs high quality control standards, including adhering to the Food and Drug Administration's good manufacturing practice requirements.
In 2014, Standard Process launched Cultivate by Standard Process, a new business which provides corporate wellness offerings to other companies. Cultivate works to assess and then deliver scalable wellness solutions to impact individual employees and the overall company using onsite chiropractic as a central component of the program.
Standard Process has been named a Top Workplace in Southeastern Wisconsin multiple times and is a member of the Inc. 5000 Honor Roll. For additional information about Standard Process, visit standardprocess.com.