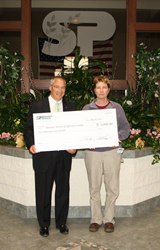 We are really grateful for the Capital Campaign donation from Standard Process, an excellent company that has demonstrated by their actions, their commitment to our community.
PALMYRA, Wis. (PRWEB) June 03, 2014
Standard Process Inc. recently made a $5,000 donation to the Humane Society of Jefferson County's (HSJC) capital fundraising campaign to build a new larger shelter to house and care for more animals and expand its outreach programs into the county. The donation from Standard Process will help reach the $3 million campaign goal.
"We are really grateful for the Capital Campaign donation from Standard Process, an excellent company that has demonstrated by their actions, their commitment to our community," said Lisa Patefield, executive director of HSJC. "At Standard Process, they get philanthropy and we are thrilled to be a recipient of their generosity."
Charles C. DuBois, Standard Process president, presented the donation check to HSJC on May 14. "Standard Process is devoted to improving the quality of life for animals by providing nutritional supplements specifically designed for their needs," DuBois said. "The Humane Society of Jefferson County shares our passion for helping animals in need, so I am honored to give to the shelter's Capital Campaign."
The Jefferson shelter is one of the oldest shelters in the state. The capital campaign covers all the costs for the project, including land acquisition, building costs and initial shelter start-up costs. Due to septic and space requirements, the new shelter cannot be built on the shelter's current site located at W6510 Kiesling Road in Jefferson. The new building will be built on the corner of Kiesling Road and Highway 89, one mile east of the existing shelter.
The HSJC serves Jefferson County and on average cares for 1,000 dogs, cats and other small animals each year. It is a nonprofit organization and does not receive financial support from any government agency. To donate to the HSJC's fundraising campaign, please contact the HSJC at (920) 674-2018.
###
About Standard Process Inc.®
For 85 years, Standard Process has been dedicated to the field of nutritional supplements and the whole food philosophy introduced by its founder, Dr. Royal Lee. Standard Process, headquartered in Palmyra, Wis., offers more than 300 high-quality supplements with whole food ingredients through three product lines: Standard Process whole food supplements, Standard Process Veterinary Formulas and MediHerb herbal supplements. The products are available only through health care professionals.
To ensure its supplements are of the utmost quality, Standard Process grows the majority of its ingredients on company-owned, organically certified farmland. To retain vital nutrients within each ingredient, the company uses exclusive manufacturing processes and employs high quality control standards, including adhering to the Food and Drug Administration's good manufacturing practice requirements.
Standard Process began manufacturing its Standard Process Veterinary Formulas line in 2002. The pet products are specifically aimed at helping support the nutritional needs of dogs, cats and horses and are only sold through veterinary health care professionals.
In 2014, Standard Process launched Cultivate by Standard Process, a new business which provides corporate wellness offerings to other companies. Cultivate works to assess and then deliver scalable wellness solutions to impact individual employees and the overall company using onsite chiropractic as a central component of the program.
Standard Process has been named a Top Workplace in Southeastern Wisconsin multiple times and is a member of the Inc. 5000 Honor Roll. For additional information about Standard Process, visit standardprocess.com.